The Internet is limitless, but parts of it (such as streaming services or informational websites) are often blocked from us. This is why you need VPN (Virtual Private Network). And if you're looking for an affordable and reliable VPN, then you should try VyprVPN. In this VyprVPN review, we will take a thorough look at what VyprVPN has to offer, what are its features, and how much it costs.
Table of Contents
Quick VyprVPN Review
VyprVPN is a VPN service with 700+ ultrafast servers in 60+ countries. They protect your privacy by providing anonymous connection to the Internet. Your activity is never logged, and you get full access to any content blocked in your country. The VyprVPN apps also includes a kill switch that always ensures protected and encrypted connection.
Why Do You Need VyprVPN?
When you're online, your personal data is always exposed to everyone, from government and ad companies to malicious hackers and identity thieves. With VyprVPN, your IP can never be tracked back to you. Your online presence will always be anonymous and encrypted, making it impossible for anyone to snoop your sensitive data.
Certain countries force strict censorship on their citizens' Internet access. VyprVPN helps you bypass any political restriction, making the online information entirely free and accessible.
Commercial content can also be blocked and geo-restricted. Streaming services such as Hulu or Disney+ are not available for every country. However, thanks to VyprVPN, you can enjoy any content in the world, be it movies, shows or sporting events. Your connection will be ultrafast, and no buffering will harm your viewing experience.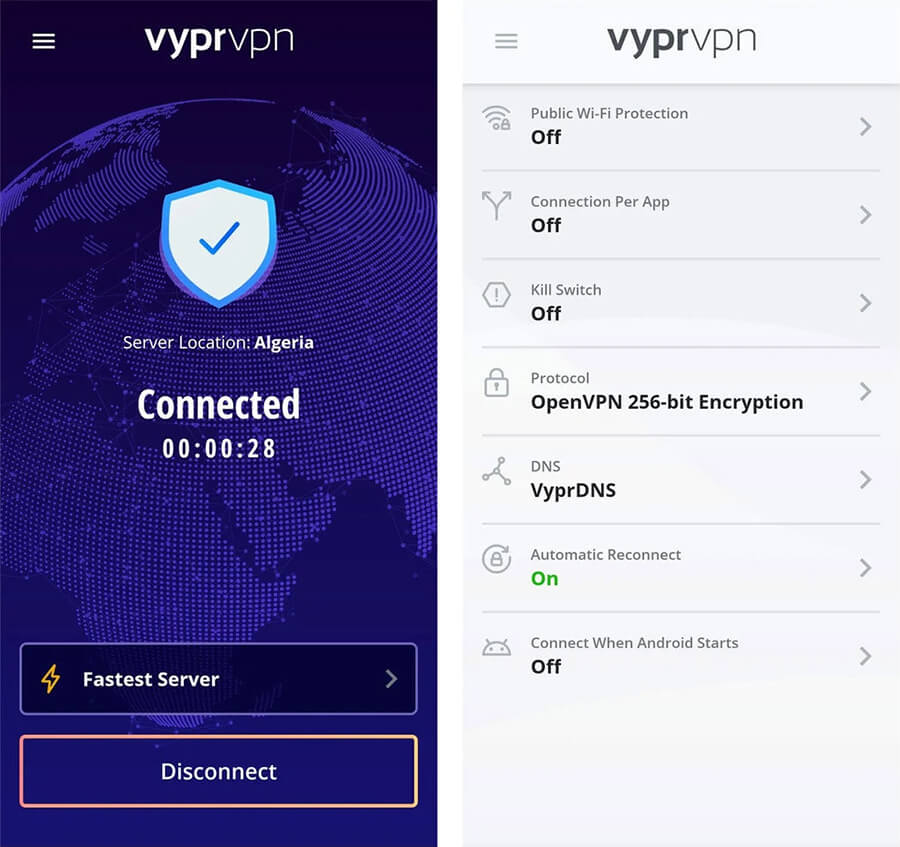 VyprVPN Features
VyprVPN includes a lot of helpful features that ensure your online anonymity and protection.
Worldwide Servers
The VyprVPN servers are spread across the globe. You can freely connect to over 700 servers spread across 60+ countries on every continent. All in all, VyprVPN has over 300,000 IPs.
The speed is no problem at all, as every server's hardware is fine-tuned to provide the fastest traffic and the best streaming experience.
Should any server become overloaded, you will be smoothly switched to the next available server nearby, without noticing any drop in speed or quality.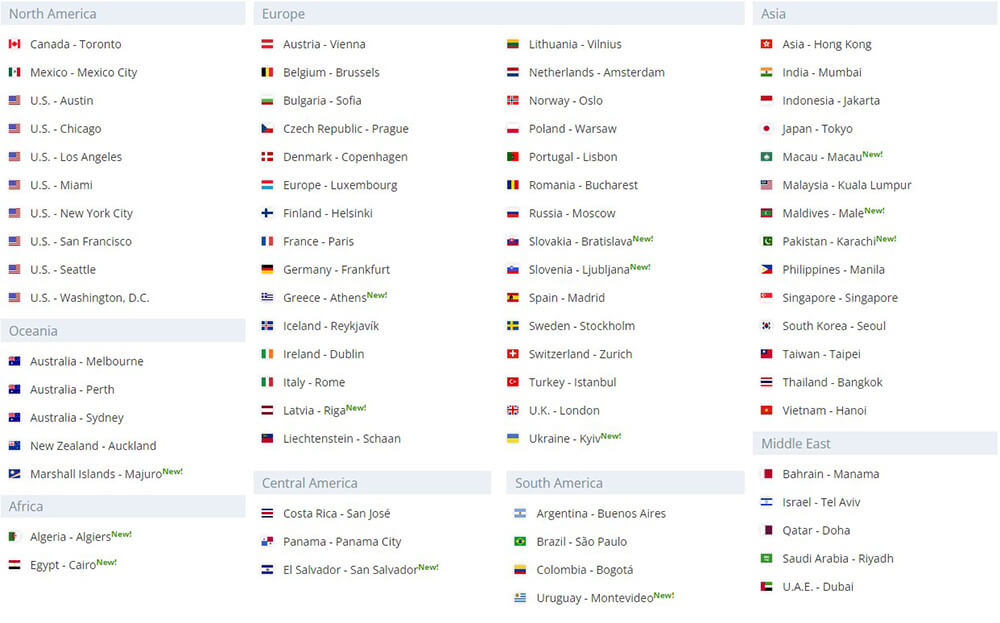 Security and Privacy
VyprVPN has a strict no-logging policy. This means that no matter what you do or visit online, your activity is never logged or recorded. This guarantees absolute privacy. It's the complete opposite of what happens when you connect through your regular Internet provider, where your every keystroke is logged, and your activity is often sold to a third party.
VyprVPN protects you from unknown Wi-Fi networks. There are Wi-Fi networks specially designed to steal your data; there are even hackers who mimic Wi-Fi networks to make unsuspecting people connect to them. The VyprVPN app prevents you from automatically logging in to such networks by connecting you to VyprVPN instead.
VyprVPN applies the powerful AES 256-bit encryption to your connection. The encryption is practically impossible to crack, so you can always be confident that your traffic is never hacked and read by any unwelcome snoopers.
The Kill Switch Feature
Sometimes you forget to turn the VPN on, connecting directly to the Internet with unmasked IP and exposing your personal data. Or maybe there is an additional Internet connection running on your device, along with the VPN. VyprVPN's Kill Switch makes sure that none of that happens.
This effective feature disables any connection if it doesn't run through VyprVPN. You can fully control it from the settings, as shown in the screenshot below: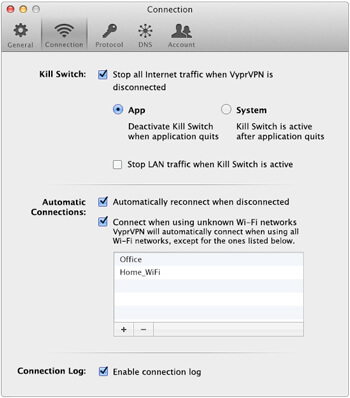 As you can see, you can set the level of Kill Switch's functioning.
If you choose "App", then Kill Switch will not work once you quit the VyprVPN app.
If you choose "System", then Kill Switch will work even if the app is not currently running. Which means that Kill Switch will block any Internet connection until you activate the VPN. This level is especially useful for those who forget to turn the VPN on before they go online.
Additionally, you can select whether or not you want Kill Switch to interrupt any LAN connection
Kill Switch is available for Mac and Windows versions of VyprVPN. It was extensively tested against similar features of other VPNs and proved itself to be highly effective.
Supported Devices
VyprVPN app is available for almost every device that connects to the Internet. Once you open an account and log in with a device of your choice, you will be able to download the app that your device requires. VyprVPN supports the following devices and operating systems:
Mac
Windows
iOS
Android
QNAP
Anonabox
Blackphone
Any smart TV
Any router
Some routers don't support app installation, but you can still encrypt their connection. Please refer to VyprVPN site for the following setup guides:
Blackberry
Boxee
Tomato
AsusWRT
DD-WRT
OpenWRT
Synology NAS
VyprVPN Pricing
At the moment of writing this review, VyprVPN offers the following subscription plans:
$1.81 per month, billed once every 36 months. You get 12 free months and a huge 86% discount.
$2.50 per month, billed once every 18 months. You get 6 free months and an impressive 81% discount.
$6.47 per month, billed once every 2 months. You get 1 free month and a big 50% discount.
To see the updated list of current prices and discounts, click here.
Subscribing to VyprVPN is completely risk-free. If, for whatever reason, you are dissatisfied with the product, you have 30 days to ask for a refund.
Final Verdict
My family have been using VyprVPN for about three months, and it definitely improves everything we do and view online. The speed matches and sometimes passes the one provided by our local ISP. We were able to enjoy Netflix, Amazon Prime and Disney+, along with some sports channels.
I also tested the Kill Switch, and I'm happy to say it works like a clock. We can be forgetful at times, going online without verifying whether the connection is safe. Kill Switch took care of that problem, and no traffic, incoming or outcoming, was allowed until we turned VyprVPN on.
The price of VyprVPN is very affordable, as compared to other similar services. And if you encounter some problem, their technical staff is always ready to help via Live Chat. My final verdict is that we loved this VPN service and app, and sincerely recommend that you give it a try.