Your Mac deserves good maintenance and protection. You need it to perform smoothly, its apps to load quickly, and your online presence to remain secured, free of ads and preferably untracked. Thankfully, MacKeeper has you covered. In this MacKeeper review, we will take a close look at this software and list everything it offers for your Mac.
Table of Contents
Quick MacKeeper Review
MacKeeper combines 11 essential Mac tools, such as antivirus, ad blocker, cleaner, update tracker, ID theft guard, VPN, and others. It greatly contributes to faster performance and safer online activity. MacKeeper offers a multitude of necessary utilities for a truly affordable price.
Why Do You Need MacKeeper?
There are many factors that can slow down your Mac, such as unwanted and out-of-date apps, duplicate files, intrusive ads, and garbage files.
There are even more factors that turn your daily Internet use into an uncomfortable and sometimes dangerous experience. Viruses, hackers, identity thieves, companies that track your private online activity, blocked content you cannot access – just to name a few.
Wouldn't it be better that you could solve all these overwhelming problems with just a couple of clicks? Well, the solution actually exists. The MacKeeper software carries everything you need to both speed up your Mac and protect it from intrusions.
There are as much as 11 tools included with MacKeeper. In the next part of this review, we will take a look at all of them.
MacKeeper Features and Bonuses
MacKeeper comes packed with an amazing line of 11 highly useful tools for your Mac. This all-in-one software cleans your Mac, improves its performance, protects your privacy, and ensures your security. Here is what you get with MacKeeper.
MacKeeper AntiVirus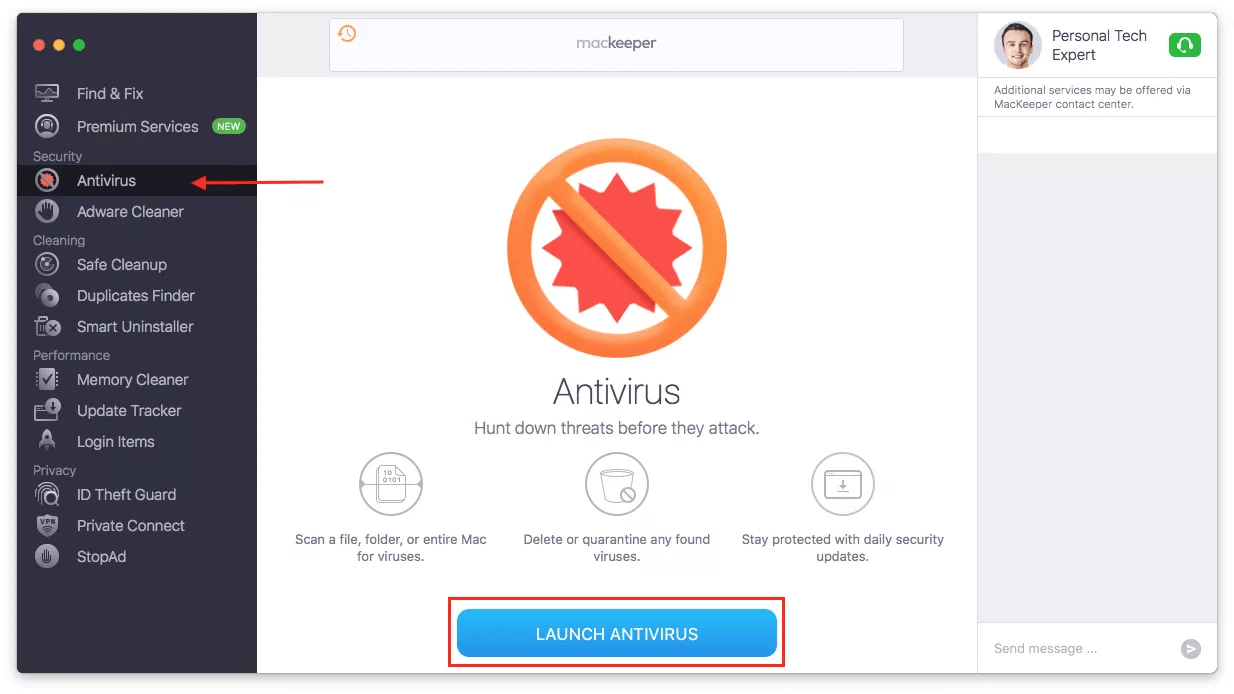 MacKeeper AntiVirus faithfully protects your Mac around the clock. It deletes any threat that tries to sneak into your system, such as:
Viruses
Malware
Spyware
Trojans
Worms
The MacKeeper virus database is always up-to-date, with new information being downloaded on a daily basis. This way, you don't have to worry about new, previously unknown viruses threatening your Mac.
While MacKeeper AntiVirus protects you in real time, you can also use it to start a full virus scan. As this antivirus scans your folders, it simultaneously displays which files are being checked and what threats, if any, were discovered. Once a threat is detected, you can decide whether it should be deleted or quarantined. You can also set MacKeeper AntiVirus to scan specific folders or files.
MacKeeper Adware Cleaner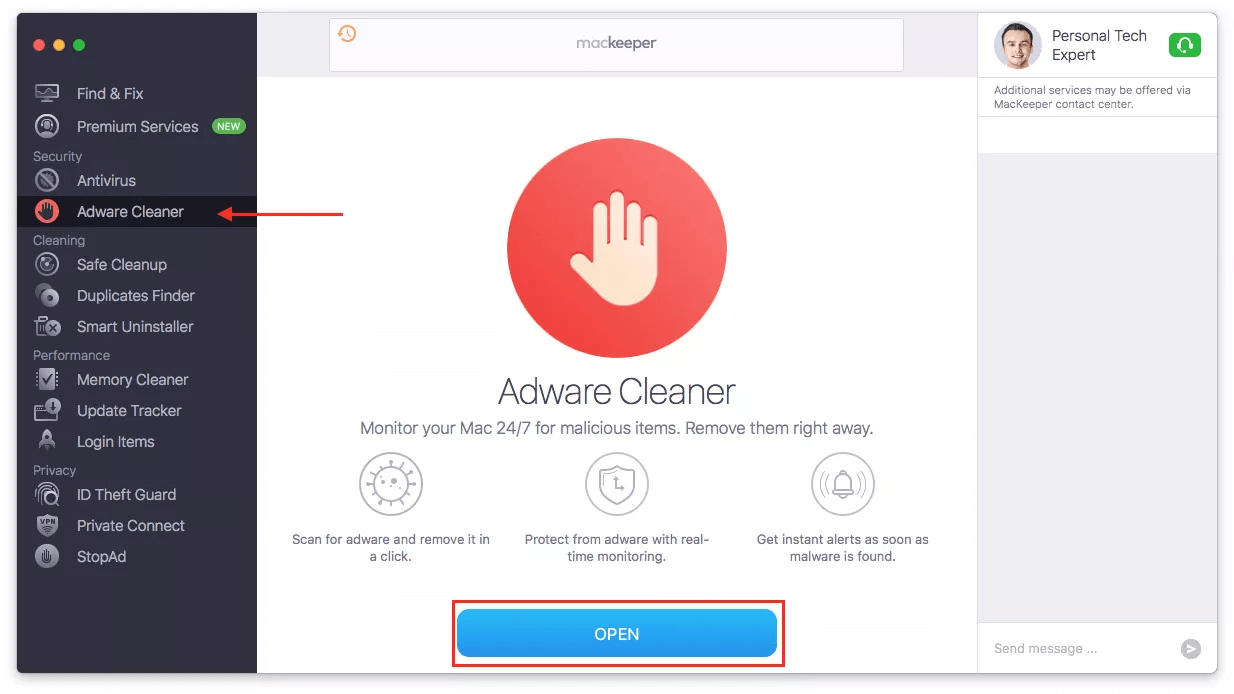 Adware is a terrible nuisance. Sometimes unknowingly to you, a software gets installed on your Mac and starts bombarding you with ads out of nowhere. This is where MacKeeper Adware Cleaner comes to your rescue.
The Adware Cleaner successfully locates and eliminates any software that floods your screen with constant ads. You can enable real-time monitoring, which will take care of that pesky adware. Combined with the MacKeeper Antivirus, the Adware Cleaner ensures that your Mac always runs smoothly and your work is never disrupted. You can also choose to scan the entire system and delete previously installed adware. These actions will keep your desktop and browsers squeaky clean from unwanted ads.
MacKeeper Safe Cleanup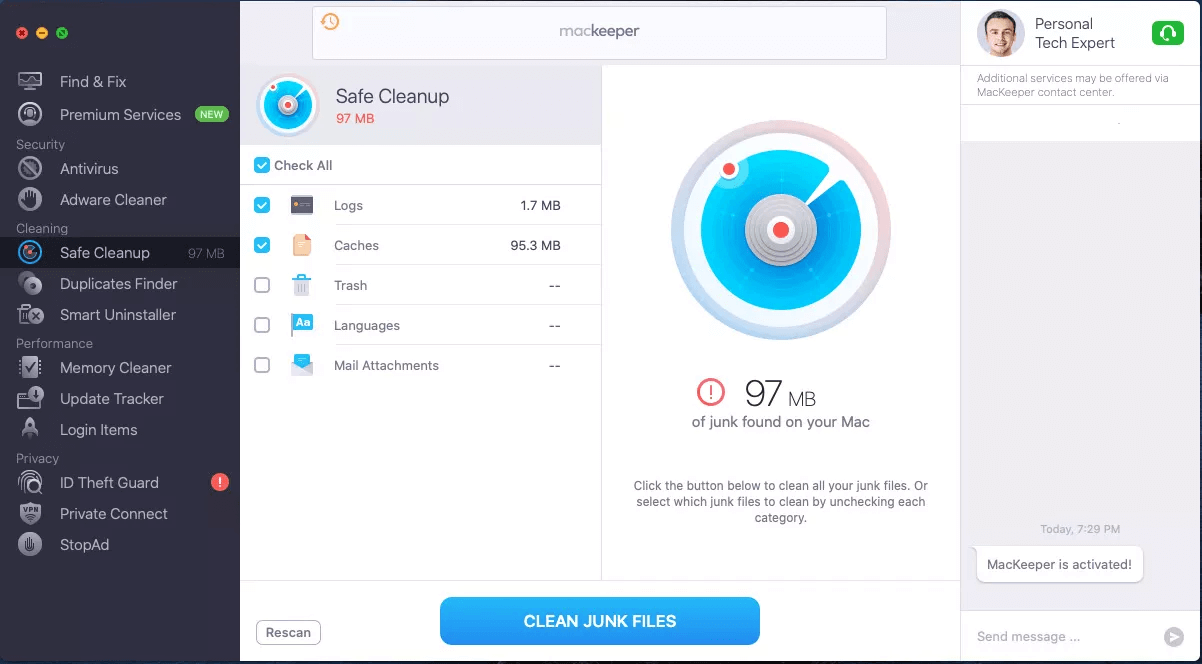 The Safe Cleanup feature is a much-needed maintenance feature that greatly improves the Mac's functioning. With a single click, it performs a deep system scan and cleans the clutter that took up space. You can choose to remove the following junk files:
Cache – temporary files that are no longer needed
Logs – records of various events in the macOS system
Trash – files you deleted and are now in the Trash
Languages – multiple language support that comes with localization files
Mail attachments – files in your inbox, which you already read and don't need any more
Notice that whatever you select to clean, your personal files will never be touched, and the rest of your system is completely safe.
MacKeeper Duplicate Finder
Duplicate files can also take up disk space. MacKeeper Duplicate Finder brings order to the chaos created by the multiple identical files. These can be:
Duplicate documents
Useless screenshots
Similar photos
Identical downloaded files
The Duplicate Finder does not delete the original files! However, it can detect duplicates even if they have a different filename. You can let the Duplicate Finder automatically delete the unnecessary copies, or you can delete them manually after the Duplicate Finder has organized them in groups. Either way, this feature saves you tons of free space.
Additionally, you can select to scan the entire system, or just specific folders, such as the folders where you keep your documents or photos.
MacKeeper Smart Uninstaller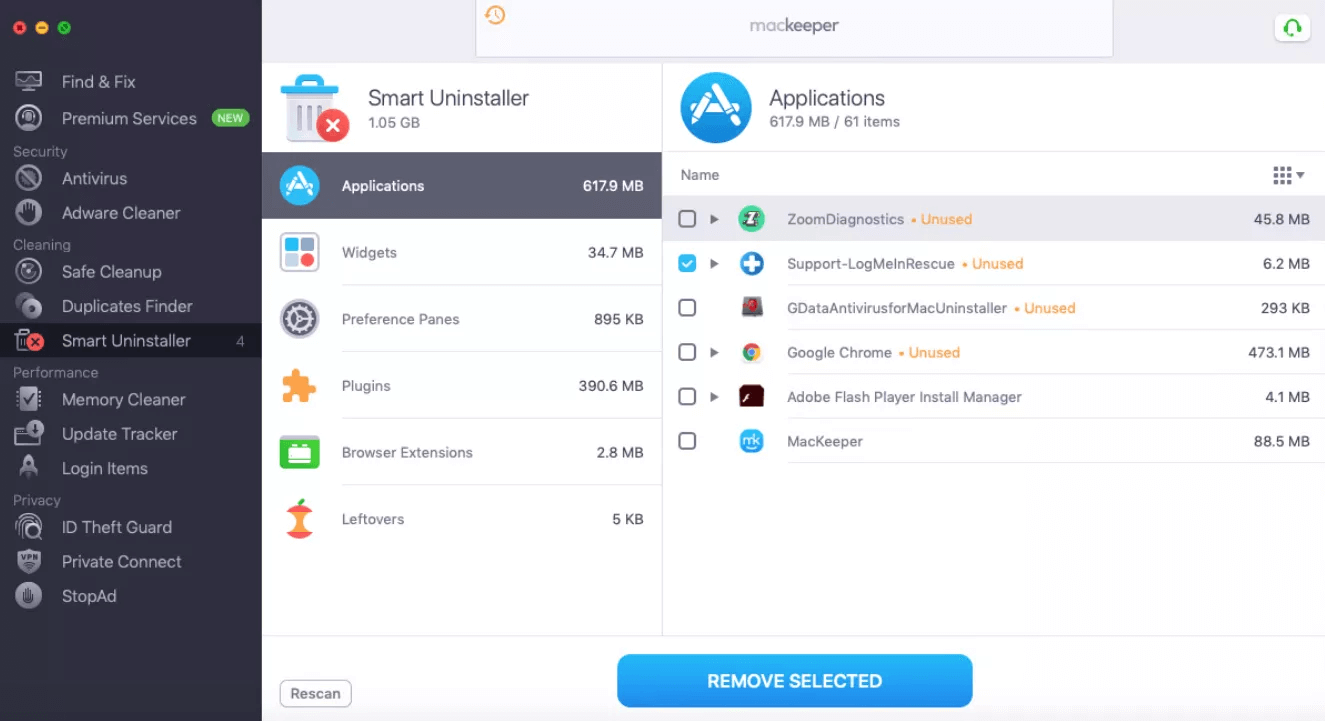 Some unused apps and browser extensions partially remain in your system even after they were uninstalled. This is why you need MacKeeper Smart Uninstaller. It cleans your Mac completely, removing even files and widgets that might be left after the manual uninstallation.
After you scan the system with the Smart Uninstaller, it displays the installed items in 6 groups:
Applications
Widgets
Preference Panes
Plugins
Browser Extensions
Leftovers
You will also see how much disk space each category takes. Clicking a category brings up the list of the items in it. Next to every item you can see its size and how long ago it was last used, if any. This helps to make the easy decision which app, plugin, widget, etc. can be safely and completely uninstalled.
Pay attention to the special category Leftovers. Here you can find residual files left in the system long after an app was removed. These "ghosts" of deleted apps slow your Mac down and should be cleaned right away.
MacKeeper Memory Cleaner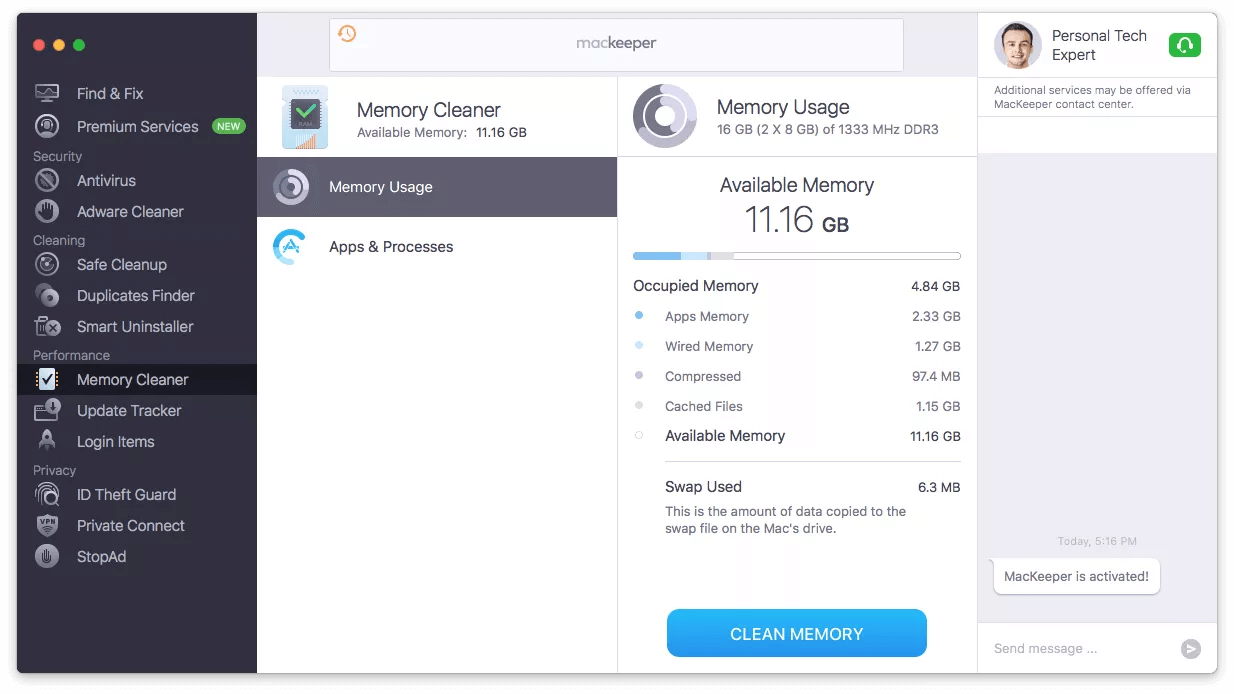 Ever noticed that your Mac is running slowly? Often there are heavy and unnecessary processes that take a large chunk of its memory and negatively affect its performance. Correct memory management is exactly what MacKeeper Memory Cleaner provides.
There are 3 different options that the Memory Cleaner provides:
Clicking Clean Memory button immediately frees a portion the memory. You will be notified just how much of the memory was freed.
Choosing Memory Usage lets you review how much of your Mac's memory is occupied by apps, cache and macOS, and how much is still available.
Choosing Apps & Processes lets you go deeper and see exactly what's currently running in the memory. You then can quit any app or process that you no longer need. MacKeeper Memory Cleaner will also ensure that you won't be able to stop important system processes.
MacKeeper Login Items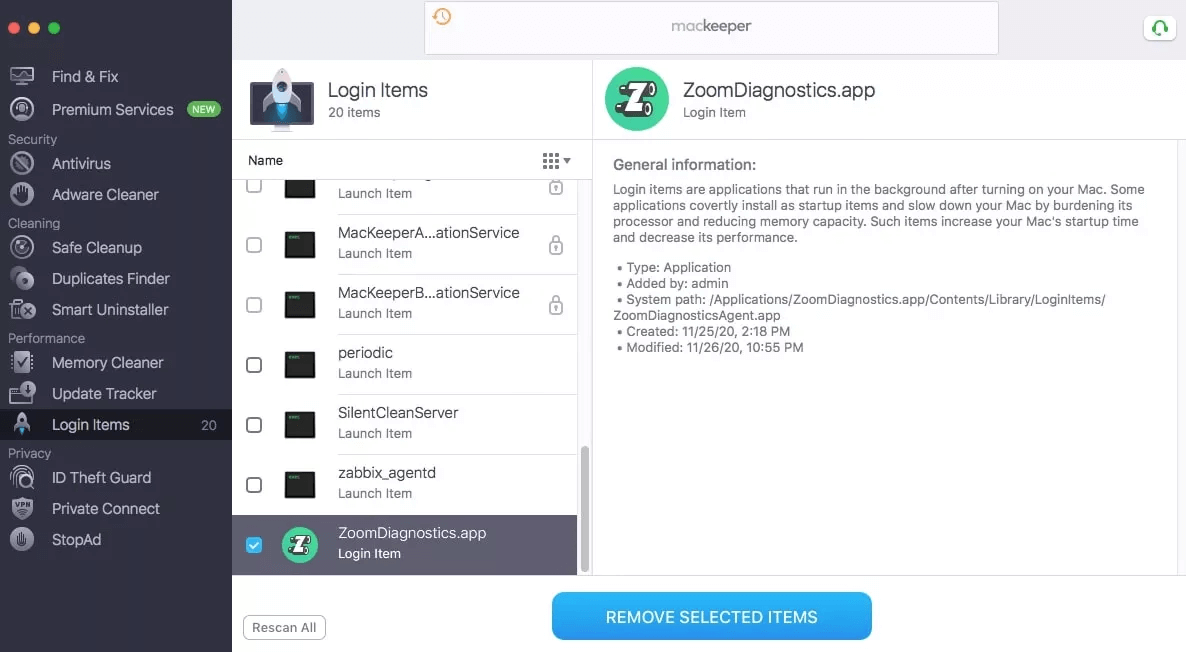 Another issue that can slow down your Mac is the useless apps loading into its memory whenever it starts up. MacKeeper offers an easy-to-use startup manager that guarantees faster boot.
Once MacKeeper scans your login items, you can check which one of them you no longer need and disable it from loading during the launch. Moreover, MacKeeper Login Items can detect memory process that seem suspicious. The feature displays full description for every process running, and you can make the right decision regarding whether you should disable the process.
Correctly managing your login items is another factor that leads to much faster performance.
MacKeeper Update Tracker
While some apps become useless over the time (or from the first moment they were installed), you constantly use a lot of other apps. However, they can also slow your machine down simply because they are not updated to their latest version.
MacKeeper Update Tracker solves this one for you. You can set it to:
Check each app for updates and alert whether new versions and features are available
Automatically update all installed apps
Display what requirements are entailed with each update, in case your current system cannot handle them
Ignore updates that you decide not to have
As you can see, you have the full control over the entire process. You can scan your Mac to see what apps can be updated. You can also use Preferences to add certain apps to the Ignore list, to prevent them from being updated automatically.
Keeping your system up-to-date is generally a really good practice that contributes to your Mac's performance.
MacKeeper ID Theft Guard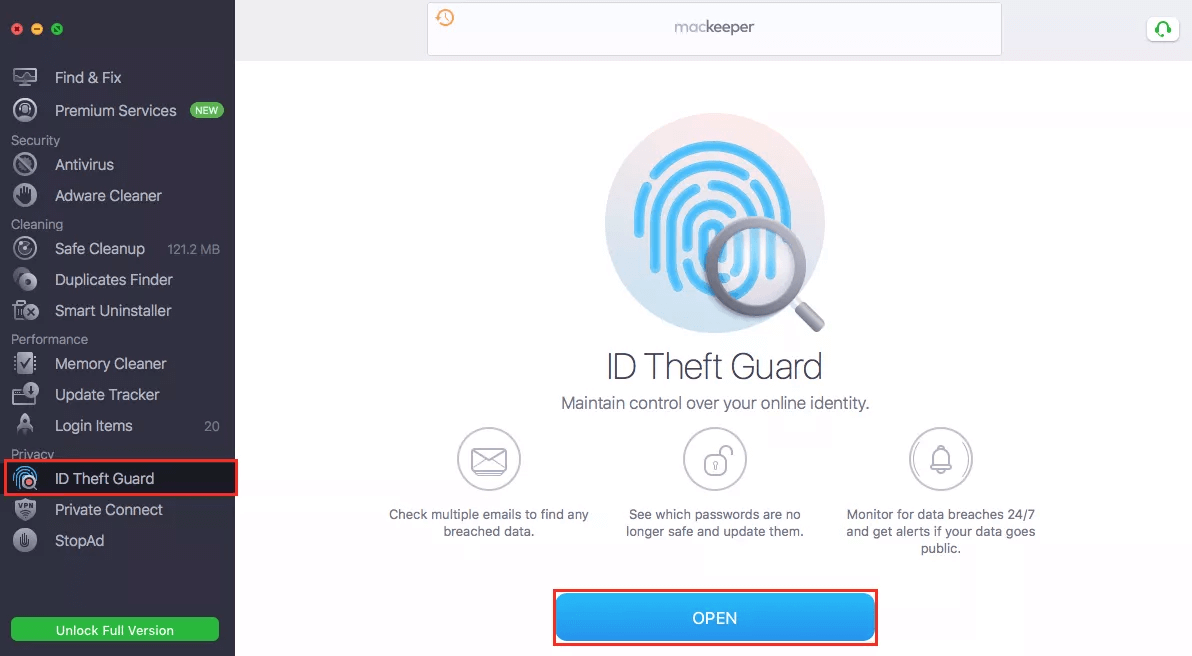 Identify theft is a serious problem, plaguing our world in the recent years. You must always be sure that your personal accounts weren't hacked. MacKeeper ID Theft Guard monitors your system and the Web around the clock and performs the following actions:
Checks whether any data breaches and leaks took place, and your email was comprised
Alerts if you have any unsafe passwords that must be changed immediately
Alerts whenever your data becomes public
To find out whether there was a big leak of multiple emails, you will need to create a MacKeeper account prior to the scan. The ID Theft Guard will then scan for data leaks related to the email you provided. You can also activate the 24/7 monitor option that alerts you in real time whenever your email appears in any future leaks.
As mentioned earlier, the ID Theft Guard can also alert you whenever your passwords were breached. It offers convenient options to update your passwords, which is the most advisable action in such scenario.
MacKeeper StopAd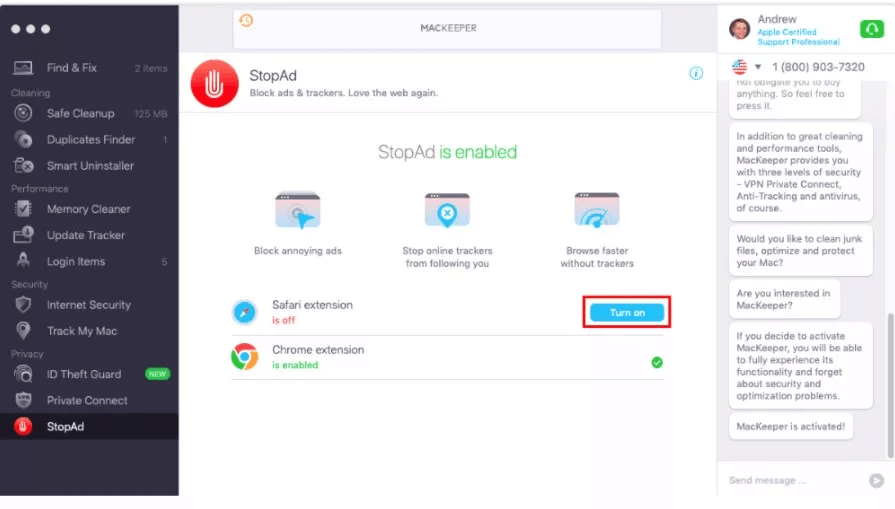 Online ads can be incredibly invasive. On some websites they interrupt the regular browsing as well as collect and track your online behavior. MacKeeper has the StopAd tool to deal with that problem.
StopAd removes banners and videos ads, hides unwanted browser notifications and blocks whoever tries to track you. Blocking trackers is especially useful. The data collected by them is used to target you with ads based on your personal interests.
Once you enable StopAd, you can use it as a browser extension for either Safari or Chrome. You will see it as an icon in your browser's extensions bar. From there, you can control which sites you wish to prevent from displaying any ads. You also get stats regarding how many ads and trackers were blocked during your visit to the website you're currently viewing.
MacKeeper VPN Private Connect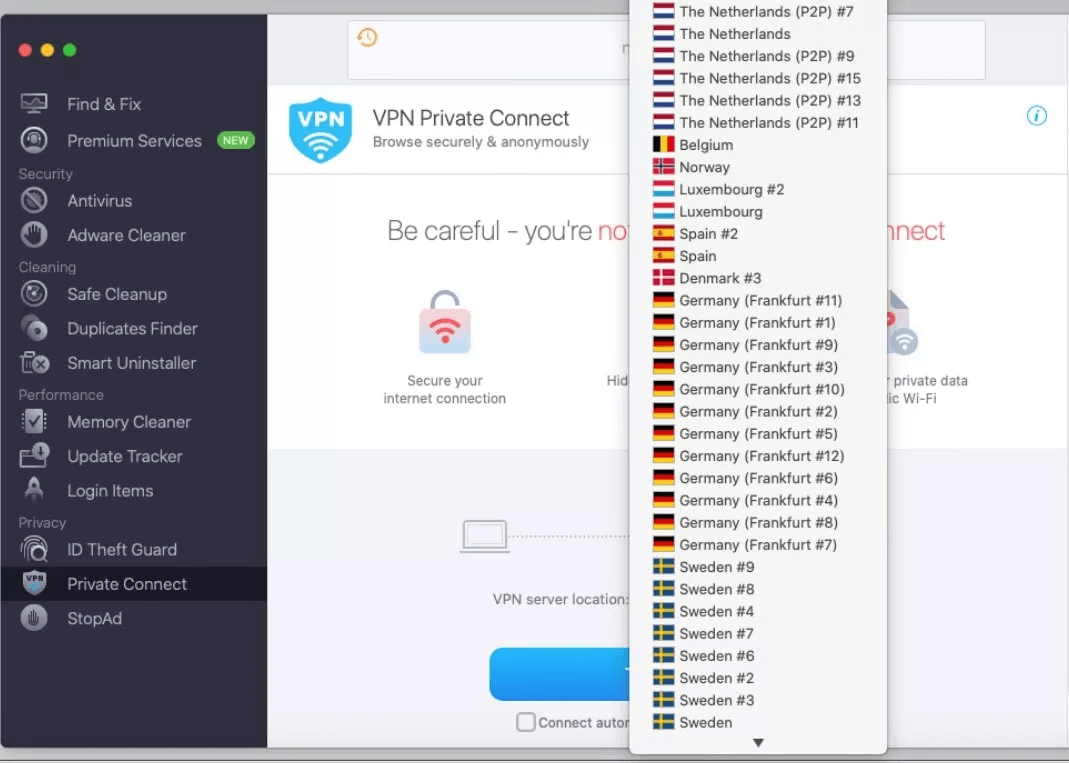 MacKeeper comes with a Virtual Private Network (VPN) tool. It secures your Internet connection, since you will be connecting to the Web through an anonymous IP and a different location than yours. You will be able to connect to hundreds of ultra-fast servers in 50 locations around the world.
This gives you access to content previous geo-restricted for you. More than that, your privacy will be protected, since your data will be encrypted using a military-grade encryption (AES-256-CBC).
You can also set MacKeeper to connect to VPN automatically, at the startup. This way your online status and activity are hidden from the very first moment.
MacKeeper Pricing and Discounts
Before purchasing, you can download MacKeeper for free and try it out.
At the moment of writing this review, MacKeeper offers 3 subscription plans:
$14.95 per month
$11.95 per month, billed every 6 months
$9.95 per month, billed every 12 months
However, these are not the final prices, since MacKeeper is constantly offering new deals. Click here to view current prices and discounts.
If, for whatever reason, you are dissatisfied with the product, you have 30 days to ask for a full refund.
Final Verdict
With its huge selection of tools, MacKeeper is definitely something that you need to install on your Mac. While there are thousands of apps in the world, it's quite rare to come across one that covers so many essential areas, such as performance improvement, security, privacy protection, and so on.
Me and a couple of my colleagues have been using MacKeeper for a while, and the improvement is quite noticeable. The MacKeeper website provided us with detailed guides about every feature. The website also has a live chat with a support agent.
All in all, this awesome software is at the top of my recommendations for Mac.