Digital images have become a major part of our daily lives. And with the rise of digital photos, there is also the rising need to edit them. If we take a look at the world of photo editing software, we can see that the Corel company definitely stands out. So, if you're looking for a professional software that can be used by anyone, Corel Paintshop Pro is the one you should consider.
In this Corel Paintshop Pro review, we will take an honest look at this photo editor. We will list its features and bonuses, explore why it's so highly useful, and check its pricing.
Quick Corel PaintShop Pro Review
Corel Paintshop Pro is a popular image and photo editing software, capable of high performance. It gives the user full array of editing tools and features, as well as such useful functions as background removal, AI photo enhancement, process automation, and more. The software comes with hundreds of effects and filters and delivers professional results.
Why Do You Need Corel PaintShop Pro?
Many of us have the desire to express ourselves creatively. We want to show the world stunning images and enhanced photos, but we don't always have the right tools. Moreover, some of the tools out there are too complicated for a beginner.
This is exactly why you need Corel PaintShop Pro. With this software, your editing and creative skills can grow, as you learn to use the features and functions at your own pace. Corel PaintShop Pro walks the fine line between being an advanced photo editor, yet fully accessible to every user level.
Corel PaintShop Pro can easily become your new workspace to produce beautiful images and improve the photos you've taken. The following video showcases some of its features, and after the video we will list more features, functions and free bonuses included with the PaintShop Pro.
Corel PaintShop Pro Features and Bonuses
Corel PaintShop Pro comes packed with a great number of helpful features.
Basic Editing Tools
In addition to all basic functions expected from a photo editor, such as cutting, copying, pasting, undoing, redoing, and so on, Corel PaintShop Pro can also:
Resize images by pixels, print sizes, percentage, or preset dimensions
Crop parts of the image
Add layers and masks
Add text
Select parts of the image you wish to change or correct – with the Selection tool
Automate any editing process by recording your actions that you can later replay in the same order, even on multiple images at once. This saves a lot of time!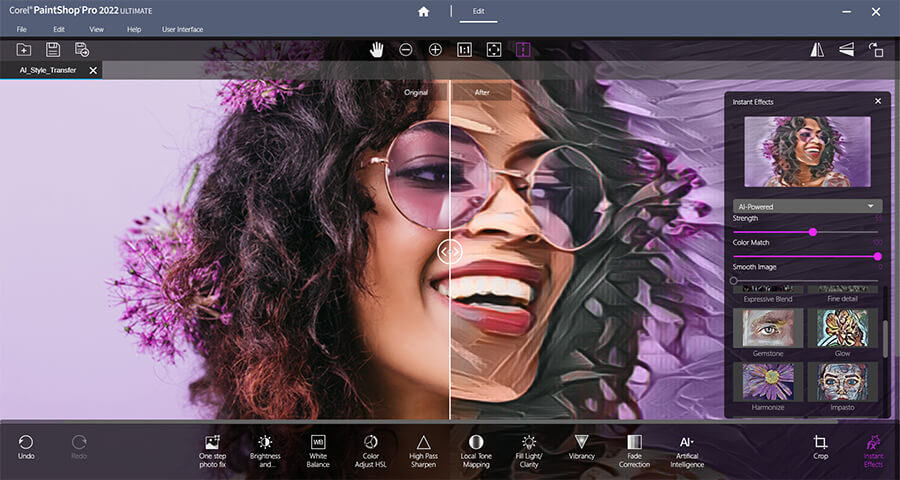 Photo Enhancement Tools
Adjust colors, hues, contrast, and brightness
Apply white balance in order to balance the color temperature of your image
Fill light and clarity
Correct faded areas
Sharpen parts of the image
Correct distortions and chromatic aberrations
Straighten crooked horizon
AI-Powered Features
AI Upsampling – distortion-free enlargement of images
AI Style Transfer for artistic effects
AI Artifact Removal – removes unwanted objects from the photo
AI Denoise – AI-powered noise removal
AI Background Replacement smoothly removes background behind people to replace it with a different one
Additional Advanced Tools
One Step Photo Fix automatically colorizes and sharpens your photos
Smart Photo Fix further improves photos, adding small yet necessary corrections
Makeover tools remove wrinkles, blemishes, red-eye, and teeth stains
Combine several photos into one to create an astonishing HDR image
And so much more!
Bonuses
Corel PaintShop Pro includes a large library of elements, which you don't need to purchase and download separately. This includes hundreds of:
Brushes
Gradients
Patterns
Effects
Filters
Templates for cards, banners, brochures, collages, social media images, etc.
Corel PaintShop Pro Pricing
At the moment of writing this review, Corel offers these deals:
€69.99 for the complete photo-editing studio, Corel PaintShop Pro
€89.99 for PaintShop Pro Ultimate, which includes Corel PaintShop Pro as well as Corel Creative Collection, Highlight Reel, Painter Essentials, Corel AfterShot, and other useful software
€152.99 instead of €179.99 (you save 15%) for 2-for-1 Photo Video Bundle Ultimate, which includes Corel PaintShop Pro Ultimate and VideoStudio Ultimate
Click here to view current prices and discounts. You can also download the software for free to try it out before buying.
If, for whatever reason, you are dissatisfied with the product, you have 30 days to ask for a refund.
Final Verdict
As you can see, Corel Paintshop Pro has everything you need to start editing your digital images and creating new ones. While many features seem to be highly advanced, they still can be used even by a novice.
Corel's website and social platform also supply a large number of tutorials that can help you get started. If you require any direct technical support, you can contact the company via their site.
Give Paintshop Pro a chance, it will pleasantly surprise you.