If you are like me, you probably can relate to the following problem. I have hundreds of photos on my phone and camera, but I'm not sure what is the best way to enhance them, edit them, organize them, and share them with the world.
In this Ashampoo Photo Commander review, we will take a look at the software that helps with everything I mentioned. We will list Ashampoo Photo Commander's features and bonuses, explore why it's so important for our daily lives, and also check its pricing.
Quick Ashampoo Photo Commander Review
Ashampoo Photo Commander is a graphic software that helps viewing, editing, and sorting photos. It can also automatically enhance multiple images at once, as well as create calendars, photo cards, and slideshows. Ashampoo Photo Commander can be used by everyone, and is very affordable.
Why Do You Need Ashampoo Photo Commander?
Usually you need several different apps and programs to handle your photos – one for viewing, one for editing, and one for organizing them. This can be too much, not to mention costly.
Wouldn't it be nicer if one software could do all of this?
Luckily, such software exists, and it's Ashampoo Photo Commander. Optimizing and editing images, sorting photos, enhancing photos, creating slideshows – Ashampoo Photo Commander does it all.
Additionally, Ashampoo Photo Commander costs next to nothing. It's probably the most affordable photo editor/organizer in the market today. But before we mention its low price, we need to take a look at all the wonderful and useful features it has. Some of them are displayed in the following video:
Ashampoo Photo Commander Features
Ashampoo Photo Commander comes packed with a great number of helpful features.
Image Optimization and Editing
Recover old or overexposed photos
Reduce file size
Cut out several objects at once
Combine mirror effects and perspective
Preview and add effects
Tilt photos to create mini-scenes
Remove gaps and scratches
Optimize an entire photo with one click
Adjust brightness, contrast, hue, saturation, and other image characteristics
Add shapes, drawings, and text
Crop, rotate and resize images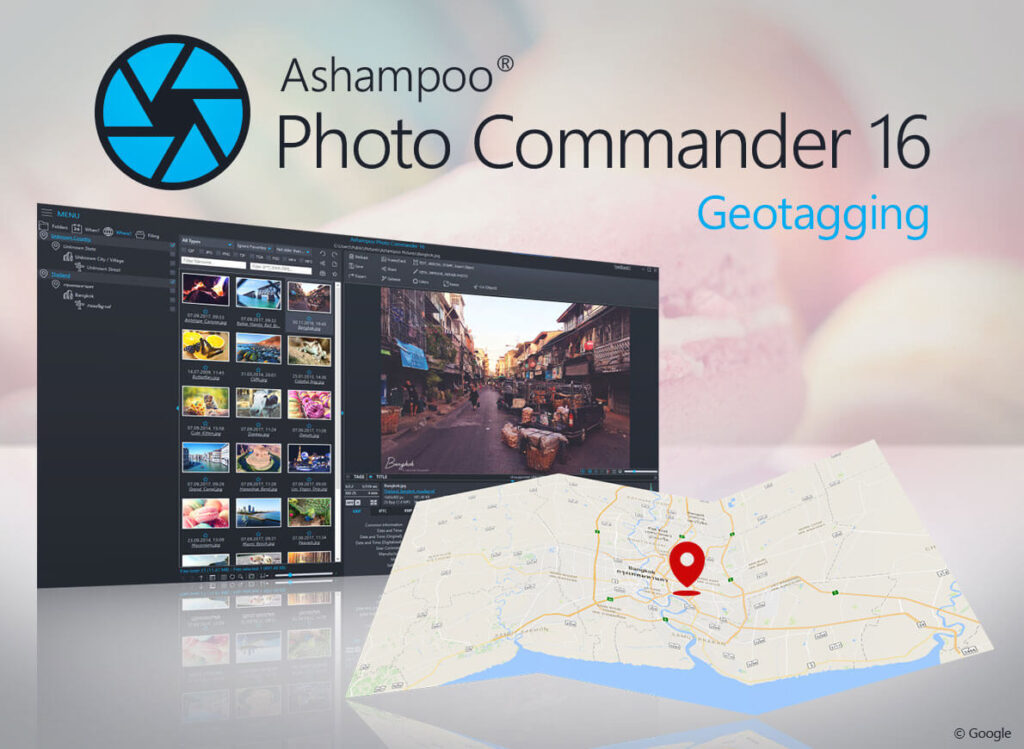 Creation, Presentation and Organization
Make panoramic widescreen images
Create slideshows with music and special effects
Transform image GPS data into real locations
Add geotags
Sort by location (country, city, street)
Extract images from video and PDF files
Create photo collages
Create 3D photos
Create greeting cards from templates
Add frames
Burn to CD or DVD
Import and Scanning
Make multi-page PDF file with a single scan
Import any photo
Full support for multiple file formats
Import images and video from digital cameras
Scan physical photos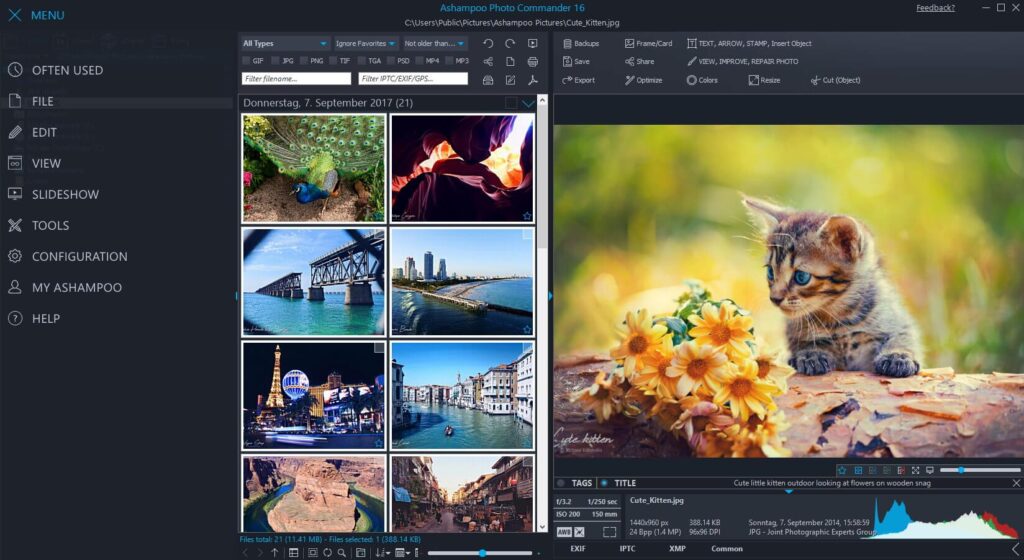 Ashampoo Photo Commander Pricing
At the moment of writing this review, Ashampoo Photo Commander's price is only $19.99 instead of $49.99 (60% discount).
Click here to view current prices and discounts. You can also download the software for free to try it out before buying.
If, for whatever reason, you are dissatisfied with the product, you have 30 days to ask for a refund.
Final Verdict
As you can see, Ashampoo Photo Commander is the perfect solution for your daily photo handling. It can sort photos, improve them, edit them, and much more. And all these options are available for a noticeably low price.
If you require any help with this software, Ashampoo has both knowledge base and live chat available to you at all times.
I would strongly suggest you download Ashampoo Photo Commander and start using it right away. It can make your life much easier, guaranteed!