inPixio Photo Studio (currently at version 11) is an easy-to-use image editing software for both PC and Mac. It helps you quickly improve and transform your photos with just a couple of clicks. With inPixio, no previous experience in graphic editing is required.
In this article, I will give a thorough inPixio review, which is based on my experience with this software. I will list its best features and demonstrate how anyone can start editing their photos in seconds.
Table of Contents
Quick inPixio Review
inPixio Photo Studio 11 helps editing and improving photos. It includes multiple useful functions, such as background and object removal, sky replacement, automatic image correction, montage creation, and many more. inPixio is highly recommended for any user, novice or professional. It can be mastered in seconds, and your photos will have an amazing and fresh look.
Why Do You Need inPixio?
These days, digital photos is how we capture our favorite moments. Vacations, birthdays, family gatherings, or even just funny memes – the need to take and edit a photo is always there.
Just imagine that you took a great photo and wish to post it on social media. However, you wish to improve its colors and lighting, maybe remove an unwanted object in the background, or add a funny caption.
With complicated graphic software, such as Photoshop, these seemingly basic tasks are almost impossible for a novice. It might take you half an hour to cut an object out, and unless you're a professional graphic designer – the end result will be less than satisfying.
And don't forget about the cost! Professional editing software costs hundreds of dollars and sometimes requires weeks of learning before you can master it.
Luckily, inPixio Photo Studio solves these problems for you. This affordable software comes exactly with the features that you need – and it takes only a second to perform any editing task.
With inPixio, it takes only a click or two to perform such awesome tasks as:
Removing background
Blurring background
Removing objects and people
Creating montages and collages
Improving colors, contrast and lighting
Replacing the sky
Adding texts, frames, effects and textures
And much more!
Here is a quick demo of what you get with this amazing Photo Studio:
Let's have a more detailed look at inPixio Photo Studio, shall we?
inPixio Features and Functions
I will now list some of the most helpful features and functions that you get with inPixio Photo Studio.
Background Removal
One of the most requested features from any image editor is background removal. You often need to remove unwanted background from behind a person or an object. The result is a PNG file with transparent background. You can then use this new image for several purposes:
Use it as a profile picture on any social network or LinkedIn.
Paste it on a new background for creative and fun reasons.
Use it for e-commerce – display your product images on a new and attractive background, or on a white one.
With inPixio Photo Studio, this can be done in a single click. In fact, it is much simpler and faster than in Adobe Photoshop. See the following quick demonstration:
Objects Removal
Erasing objects is another desired editing feature. Sometimes you have the almost perfect photo, but some object or person ruins it. Just a few examples of what you would normally like to remove to improve the image:
Strangers photobombing the view
Signs, cables, powerlines and other nuisances
Stains, blemishes, wrinkles and scratches from old photos
Watermarks and texts
inPixio takes care of these common problems. Its Erase function removes these objects without lowering the image's quality. It also restores the background, giving the image a complete and smooth look – minus the unwanted objects and blemishes.
Here is a quick demonstration of how you can select and erase any object:
Sky Replacement
An exclusive professional feature: you can improve the vibrancy of your photo with Sky Replacement. Switching the sky makes the photos more powerful and outstanding, as you can see from the following example: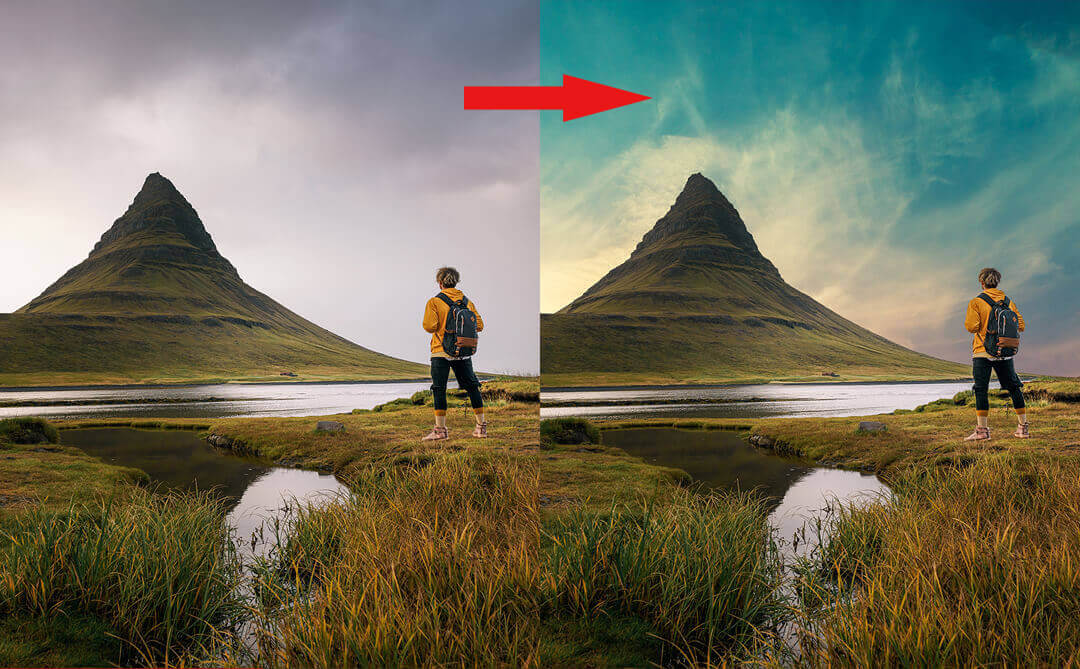 Photo Montages
inPixio helps you create collages and photo montages with ease. You can get really creative while you combine parts from different images, making something new and unique. The software applies edge smoothing to your photo montages, creating a seamless transition between different parts of the montage.
Image Correction with a Single Click
The professional version of this software comes with automatic image correction. With just one click, the Photo Studio analyzes the image and then vastly improves its colors and quality. No more endlessly fiddling around with shading, lighting, contrast, hue and so on – the entire process takes less than a second.
Photo Editing
In addition to all these exclusive and extremely helpful features, inPixio Photo Studio 11 comes packed with everything you can expect from an editing software.
Cutting, copying and pasting
Cropping
Erasing
Resizing
Saving as various image types
Clone stamping
Selecting, including polygon and lasso selection
Adding texts
inPixio Pricing
At the moment of writing this review, inPixio offers up to 50% discount! I strongly recommend getting inPixio now, before this exclusive discount offer expires.
inPixio Photo Studio is available in two versions.
Regular Version
Includes the following features:
Background removal
Objects removal
Image errors correction
Precise Cutout and Crop functions
Photo montages
Interactive tutorials
Price: only $29.99 instead of $49.99.
Professional Version
Includes the following features:
Everything that is included in the regular version
Sky replacement
Advanced image correction with just one click
Advanced editing functions that help to enhance and touch-up your photos
Over 100 effects and filters, such as vintage, cinematic, black-and-white, and so many more!
Over 50 textures that make your images even more original
Over 100 frames that turn your photos into a work of art
Price: only $39.99 instead of $79.99.
Getting inPixio is risk-free. If for some reason you are not satisfied with the software, you can contact them and receive a full refund.
Final Verdict
I've been using inPixio Photo Studio for a couple of weeks now, and I'm pleasantly surprised by the results. As you could see from this review, inPixio is just the right software for everyone, even for computer users who are not very savvy with graphic editing and just want fast and easy changes to their favorite photos.
All in all, I warmly recommend you give this Photo Studio a chance. This is the most fun time I ever had while editing and improving my vacation images!