NordVPN is the world's leading VPN provider. In today's world, everything is online, but not everything is secure or accessible. Your online presence is also being constantly tracked. The NordVPN app allows you to securely access any content and website, without any company or government limiting or logging your activity.
In this article, I will give a thorough and comprehensive NordVPN review, which is based on my direct experience with this app. NordVPN includes a lot of much needed features and benefits, and I will make sure to list them.
Table of Contents
Quick NordVPN Review
NordVPN provides secure, encrypted and fast VPN connection, allowing access to any content that could be restricted or limited in your country or on a public Wi-Fi. NordVPN app can be installed on any device, be it a computer, mobile phone, tablet or console. With NordVPN software, your online activity is never logged or tracked.
Why Do You Need NordVPN?
The Internet offers so much information, social interaction and entertainment. However, your privacy is constantly compromised. The large companies track your online presence, logging your every action. Hackers can easily steal your personal data, especially if you are using public Wi-Fi spots.
The troubles don't stop there. In some countries (or maybe in all), the government really limits what you can access on the Internet. And not only the government. A lot of companies restrict the access to their content by countries. YouTube videos, streaming services, online gaming – I'm sure you've seen the "restricted content" message more than enough.
Luckily, a solution to all these problems exists. VPN, a virtual private network, will mask your location and your IP. With its help, you can "pretend" being from another country. This will open any blocked content for you. You will be able to play online, view videos and read whatever you'd like, without any fear that someone tracks your activity.
NordVPN does exactly that. With its 5200+ global servers, it provides an ultra-fast VPN with a single click. The app can be installed on any devise, be it a PC, Mac, mobile phone, Xbox, Playstation, Kindle Fire, and so on. Your private data will be encrypted and never logged by anyone!
Let's have a more detailed look at NordVPN, shall we?
NordVPN Special Features
I will now list the most prominent and helpful features that NordVPN brings to the table.
Online security: Your privacy is guaranteed, as NordVPN encrypts everything you do with the unbreakable AES 256-bit encryption. No hacker, Internet service provider, megacompany or government will be able to exploit you. Your data will never be logged and collected, not by NordVPN as well. Your data will never get to be sold to advertisers.
Ultra-fast VPN: While NordVPN is secure, it's also extremely fast. According to an independent study that compared between VPN providers, NordVPN is significantly faster than the rest of the competition. Its huge infrastructure includes over 5200 servers around the world. Once you select a country you wish to connect through, NordVPN selects the fastes server for you.
Can be used on any device: As mentioned earlier, NordVPN can be used on multiple devices. In fact, a single NordVPN account allows to install the app on 6 different devices. These can be desktop computers (PC and Mac), tablets, laptops, smartphones (Android and iOS), gaming consoles (Playstation and Xbox), Kindle Fire, Chromecast, and so forth. NordVPN is compatible with every popular operation system and Internet browser.
SmartPlay: This NordVPN feature gives you uninterrupted streaming, wherever you are. Let's say you would like to view your favorite movie or show on your streaming service. If you're abroad or on a public Wi-Fi, you will probably be restricted. Moreover, your own Internet provider might throttle your connection according to their needs. NordVPN's SmartPlay bypasses all that nonsense. It's already included within the app, and no further setup is required. You will continue watching your streaming service flawlessly, with no buffering or lagging, just as you wanted.
There are tons of additional terrific features that come with NordVPN. To see the full list of the features, please click here.
NordVPN on Your Computer
You can download the NordVPN software to your computer from their website. Once installed, use your login information to activate it. This is how the NordVPN software looks on your taskbar, among the hidden icons (right-click to open this view):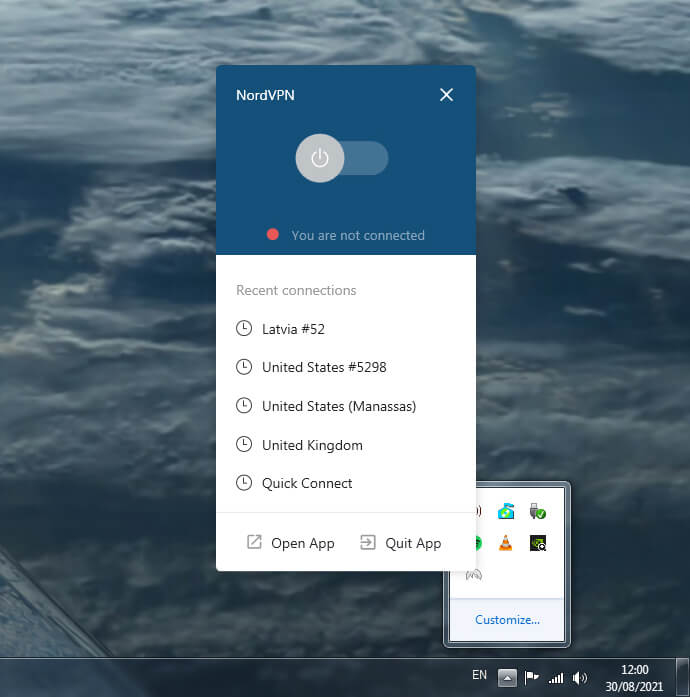 You can quickly connect by clicking the Power button or one of the previously used connections. This is how it will look once you're connected: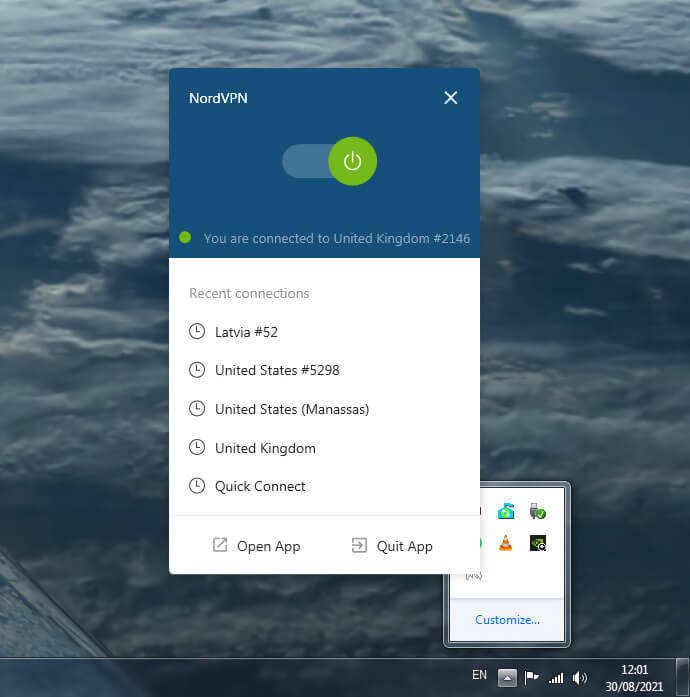 You can also left-click the NordVPN icon to get the full view of the software. Here you can search for a country of choice, or click a dot on the world's map: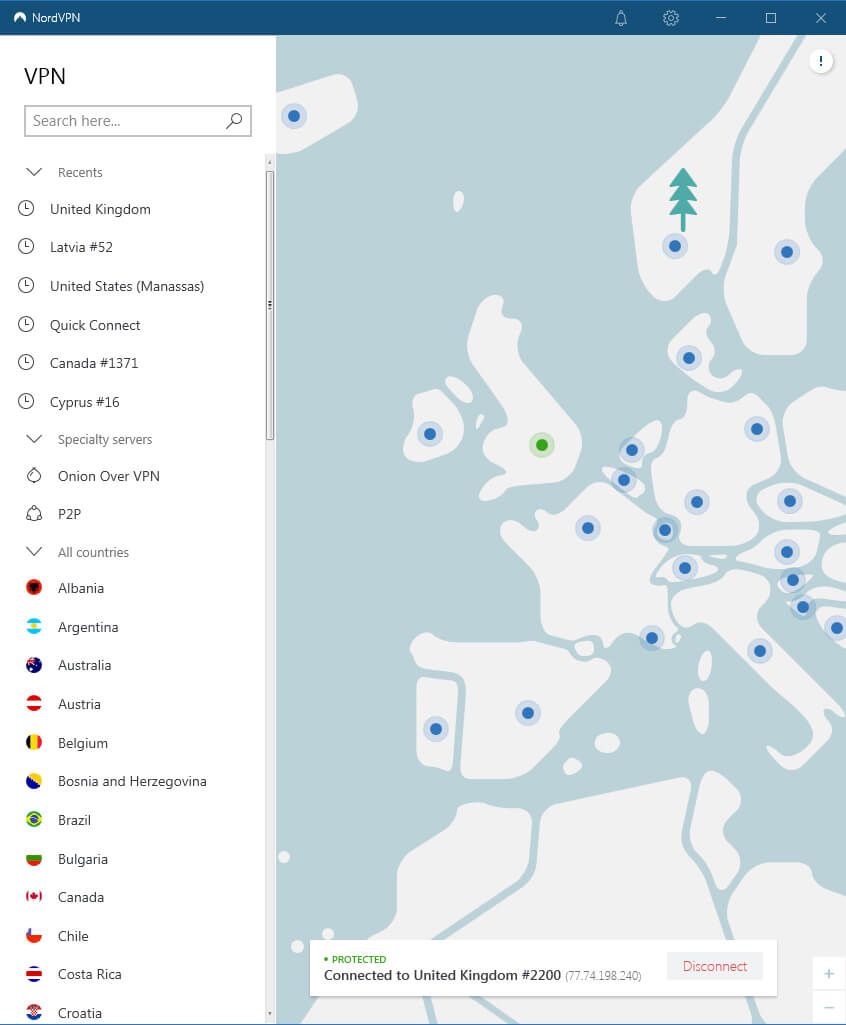 NordVPN Settings
The NordVPN software comes with several quite useful settings and preferences that you can tweak, as you can see from the screenshot below: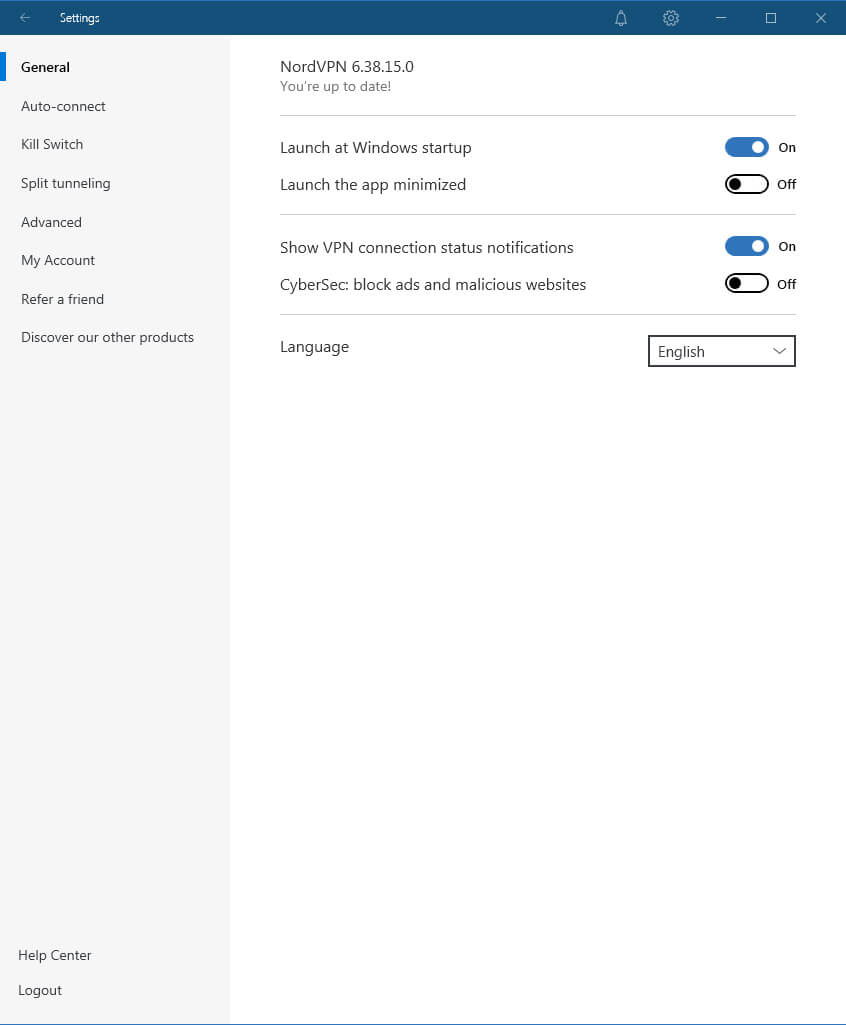 Some of the settings include:
Software's language
Setting whether or not NordVPN launches at Windows startup
Auto-connect options, such as setting the app to auto-connect when it's launched or whenever Wi-Fi is detected. You can also add a list of trusted Wi-Fi networks that don't require the auto-connect option.
Kill switch: Disable your Internet connection when you are not connected to VPN. You can also add programs that will close whenever the VPN connection closes.
Split tunneling: Selecting which apps need the VPN connection
Setting a custom DNS address
Changing your password
Referring a friend via a special link that gives you both 1 free month when the friend subscribes
NordVPN Mobile App
Just as you can install the NordVPN software on your personal computer, you can download their app for your mobile phone, whether it's an Android device or an iPhone. You can log into the app with the same credentials and enjoy anonymous Internet on your phone.
This is how the NordVPN app looks on a phone: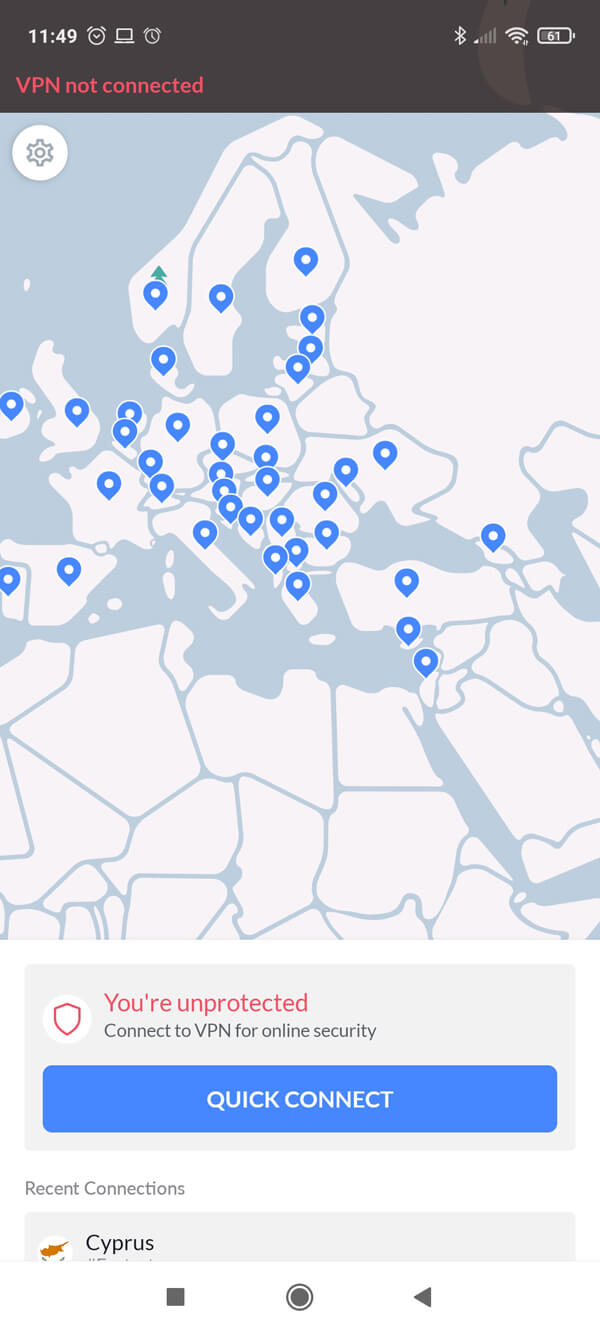 You can scroll and search the list of countries to connect from: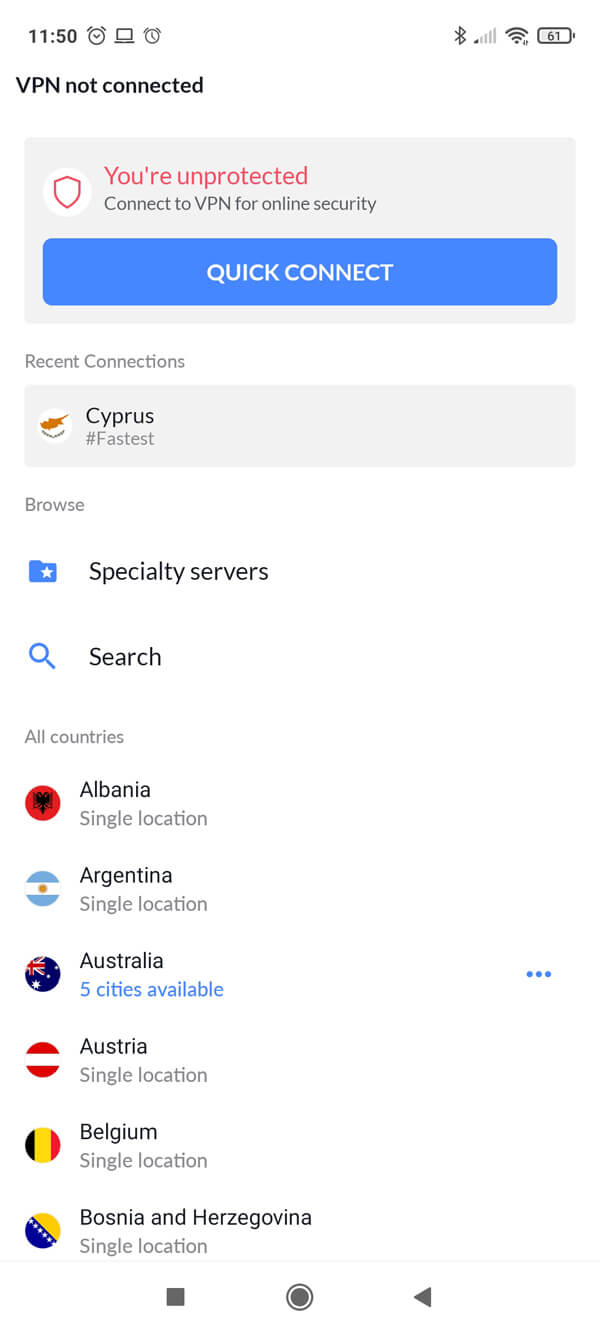 This is how it looks once you're connected and protected:
This is how the NordVPN can be accessed from anywhere. You can instantaneously disconnect or pause it: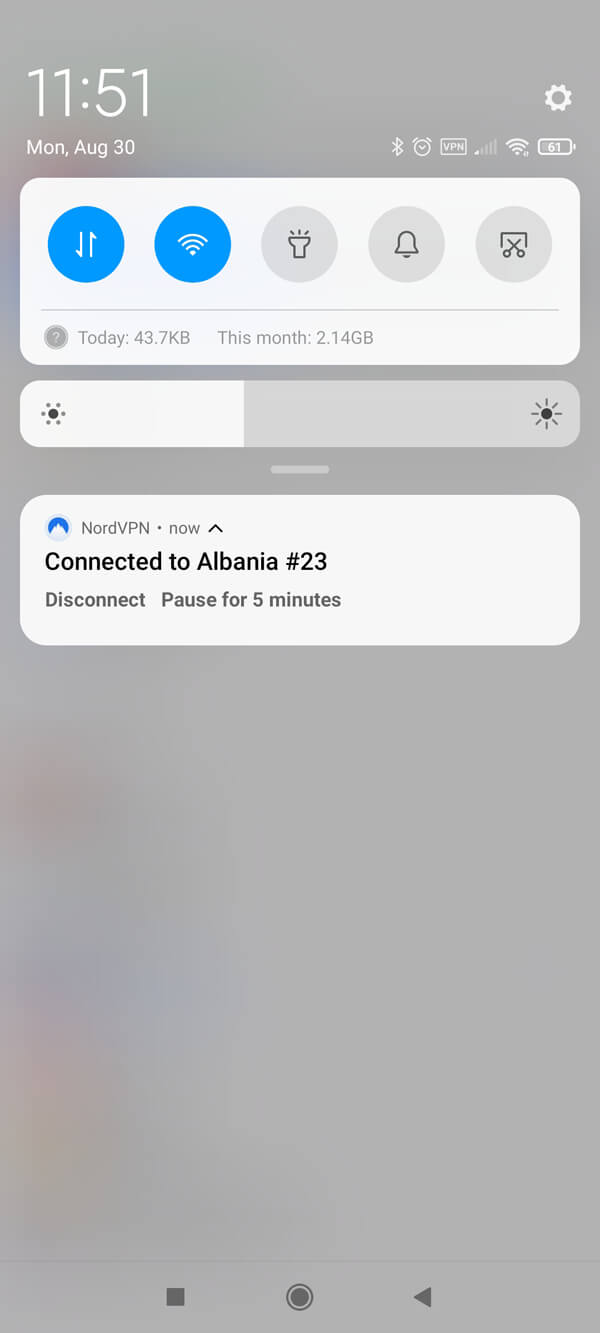 NordVPN Pricing
At the moment of writing this review, NordVPN offers 3 convenient pricing plans:
$11.99 per month, billed monthly
1-year plan, in which you save 58% and pay only $59.88.
Exclusive deal: Save 70% and pay only $83.76 for the first 2 years + a free gift.
You can change your plan whenever you like by visiting your profile and clicking "Pick a Plan". The new plan will start when your current one ends.
Subscribing to NordVPN is risk-free, since it comes with 100% money-back guarantee. If, for some reason, you wish to unsubscribe within 30 days, you will receive a full refund.
Final Verdict
I've been using NordVPN for several months, and now I cannot imagine being online without it. It's a serious improvement to the online experience. A whole new world opens for you, and nothing is beyond your reach. No walls, no restricted access, no censorship or speed throttling. Just a pure and uninterrupted use of the World Wide Web.
I enthusiastically recommend that you give it a try. For such a low price, you get to experience so much while bypassing all the pesky problems that your regular Internet connection brings. As I listed earlier, there is a very long list of tremendous features that already come included with the software. Security, privacy, speed and limitless access – what else would you need when you're online?