Commission Gorilla (currently at version 3) is a page builder that helps affiliates quickly create promotion pages and bonuses, without any prior knowledge in Web design. In this article, I will give you a detailed Commission Gorilla review, listing all features and free bonuses that come with this highly useful application.
Table of Contents
Quick Commission Gorilla 3.0 Review
Commission Gorilla is a powerful Web-based application that saves tons of time and money. If you're in the affiliate or marketing niche, you probably want your offer to appear online long before any other competitor publishes it. Commission Gorilla does just that, by aiding you in creating attractive pages in just a few minutes. More than that, Commission Gorilla helps you publish special bonuses that boost your sales, and it even gives you several ready-to-use bonuses for free!
Why Do You Need Commission Gorilla?
The world of affiliate marketing is all about competition. While you're struggling with technical issues, such as coding or hosting, other people have already started selling the same products you do.
But have no fear, the Gorilla is here. Using its easy-to-use page editor, you can have a great looking and converting page in no time. Commission Gorilla users reported a 2-5 times more conversions than expected. As we speak, this application has over 10,000 users, who already earned several million dollars in commissions.
Commission Gorilla Features
Drag and Drop Page Builder
The main feature of Commission Gorilla is the drag and drop builder. No longer will you need to pour sweat and tears over long lines of coding, worrying whether or not the result will look good in all devices.
With Commission Gorilla, you simply start a new page and drag blocks of different content to be placed one above the other. The blocks can be:
Text
Image
Video
Call-to-action button
Bonus block (see below)
Countdown timer
Social sharing buttons
Spacer block to separate other blocks
You can edit the blocks, change their colors and fonts, change their order, duplicate them and delete them. Everything is done with a mouse, without typing a single line of an HTML/CSS/Javascript code.
The final result is a responsive and attractive promotion page, done in minutes and ready to convert traffic to profit.
The following video demonstrates how you use Commission Gorilla to build pages:
Various Bonus Layouts
Another outstanding feature of this application is the bonus library. Commission Gorilla offers 4 bonus layouts. You can use any of them to add a bonus block to your offer. Bonus blocks are a great incentive and they help to seal the deal.
By the way, if you don't have a bonus of your own, the makers of Commission Gorilla included several free bonuses that you can use. I mention them in more details below, under "Free Bonuses".
This screenshot shows the different bonus layouts you can use: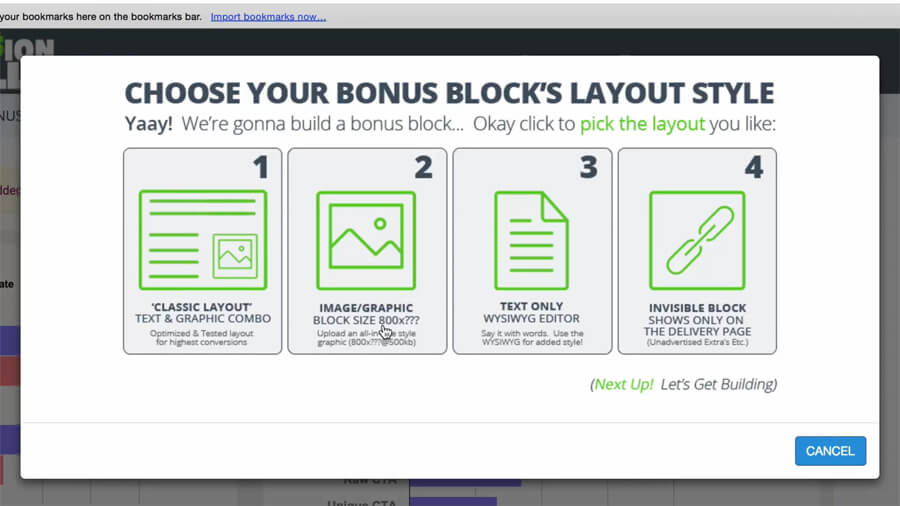 Parallel Campaigns
Naturally, you wouldn't want to put all the eggs in one basket. Affiliates usually prefer running several campaigns, to increase their chances for profits. With Commission Gorilla, you can simultaneously run up to 20 campaigns!
Thanks to this feature, you can establish a multi-promotional portfolio and use several money-making markets at once.
Sharing Options
Once you are done editing the page, it's ready to be marketed. The application comes with Facebook, Twitter and LinkedIn sharing features, which help you promote your page immediately.
You can also include sharing buttons in the page itself, as mentioned earlier.
Cloud Hosting
Commission Gorilla saves you the costs of hosting your pages! Every page you build is hosted for free in the cloud hosting.
Every page also comes with its own unique URL, so you also don't have to buy a domain name.
Dashboard and Tracking
Commission Gorilla provides its users a personal dashboard, where you can be constantly updated regarding the success of your campaigns. This is an excellent tool that helps you to decide whether your pages are converting, or you should edit and tweak them a little bit more.
Here is how tracking and stats look: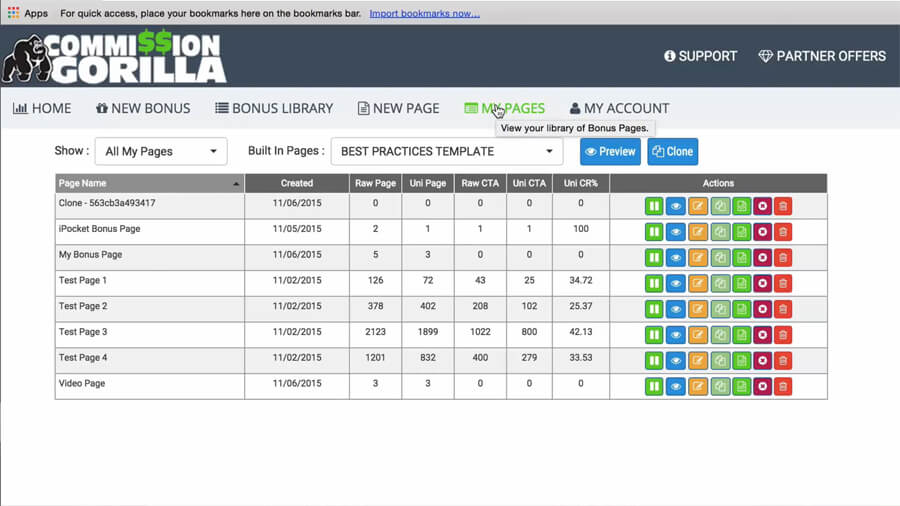 Cloning and Importing Templates
If you have an idea for a new promotion page, but you wish to base it on an existing one, there is a feature just for that. The clone feature helps you make a brand new page from a previously saved one, and your new campaigns can be ready in seconds!
You can also import pages from other users, or let others use your pages as a template. This sharing and importing option benefits both sides, as you can quickly launch a page built from a successfully performing template.
Bonus Delivery Pages
The bonus delivery process is automated, thanks to Commission Gorilla's additional feature. Every time you create a page, the application with also a bonus delivery page for you.
You can copy any text into this page, and you are ready to go. Commission Gorilla just saved you another hour of coding another page.
WordPress Plugin
In case you have your own website, built with WordPress, you can integrate these promotion pages in it.
Commission Gorilla supplies a special WordPress plugin for free. It links with your Commission Gorilla account, and the pages you made are easily integrated in your existing website.
Commission Gorilla's Free Bonuses
Besides the useful features mentioned above, Commission Gorilla comes with free bonuses:
10 Done for You Bonuses
Don't have a bonus to offer to your potential buyer? Don't worry, you get 10 ready-made bonuses for free. You can use them as a part of your promotional page, free of additional charge.
8 Highly Converting Templates
To save you even more money and testing, Commission Gorilla gives you 8 ready-made campaigns. You can simply clone them and update with your own affiliate links. These page templates have already been tested and verified as successfully converting designs.
10 In-Depth Training Videos
If you purchase Commission Gorilla, you get a special series of 10 videos that show all the secrets of successful affiliate marketing.
The series, titled Affiliate Gorilla, gives a valuable information and openly demonstrates just how all those super-affiliates make their millions. This free bonus compliments the Commission Gorilla applications, ensuring that you are ready to start making some serious money.
Commission Gorilla Pricing
At the moment of writing this review, Commission Gorilla's price is only $49/year.
However, I suggest that you click here to see the latest and most updated price.
Moreover, there are limited-time offers that can give you up to 50% discount. Check for discount codes here.
If you are dissatisfied with the purchase, no matter the reason, you have a 30 days period to ask for a refund. Promote Labs, the company that created Commission Gorilla, offers 100% money back guarantee.
Final Verdict
Commission Gorilla is a tool that can assist both vendors and affiliate marketers. It saves a lot of time, money and effort by streamlining the process of producing promotional pages.
Additionally, it is a known fact that bonuses are a driving force behind every sale. Commission Gorilla takes that into consideration and helps by quickly adding bonuses to your pages, be it your own bonuses or the free bonuses included with this software.
I recommend giving it a try at least for a couple of weeks. The price is really affordable, and the benefits are irrefutable. Commission Gorilla can be your advantage over the competitors in your niche.