Whether for a personal or commercial use, video editing is a necessity. The real challenge is finding a video editing program that's both affordable and easy to use. Luckily, Movavi Video Editor Plus is quite possibly the best solution available today.
In this article, I will give a thorough Movavi review as I check to see whether this video editor is the right tool for any user. We will take a look at the numerous features that come with Movavi Video Editor Plus as well as additional related programs from the Movavi company. Let's dive in.
Table of Contents
Quick Movavi Review
Movavi Video Editor Plus is an all-in-one video editing software, aimed at both beginners and professional editors. You can easily create videos, add animation, make collages, replace backgrounds, highlight and conceal parts of a frame, and much more. Movavi Video Editor Plus is affordable and offers many advanced features for a low price.
Why Do You Need Movavi Video Editor?
It's hard to imagine the Internet without videos. From vacation and pet videos to videos that showcase products and services, knowing how to edit a video will get you noticed. There are so many things that can be achieved in a video format:
Explainer and informational videos
Education videos
Family events
Personal vlogs
Funny videos
Truly, there are no limits to what a good video can deliver to its audience.
However, there are a couple of obstacles on your way to making a video. You might not be a video editing professional; and you might not have the budget for a good video editing software.
This is where Movavi Video Editor Plus steps up. Movavi has been around for near two decades. Their popular software is widely recognized as the perfect fit for anyone. No prior experience is needed, you can start making videos right away.
Moreover, there is no need to pay thousands of dollars for a software or for a video expert's services. In fact, you can download it for free before deciding to pay its quite affordable price.
Let's see precisely what Movavi has to offer to meet your needs.
Movavi Video Editor Features and Bonuses
Movavi Video Editor Plus comes packed with a great number of helpful features and bonuses.
User-Friendly Interface
Before listing specific features and functions, I must say – hats off for the clear interface. Often video-editing programs and apps come with an intimidating and complicated interface, where important functions are hidden in menus and submenus. This is not the case with Movavi Video Editor.
The interface is highly user-friendly and pleasant to see. The elements are conveniently arranged, and every function is visible and immediately accessible. This makes the navigation accessible even to the novice users.
There is also a large timeline, where you can drag and place audio files, video files, titles, and so forth. The size of the timeline is adjustable, which is handy if you work on a big video project. Added files are visible in the media bin and can be re-used throughout the video you're currently editing.
All in all, the interface alone already places this software above most of its competitors. But we are just getting started.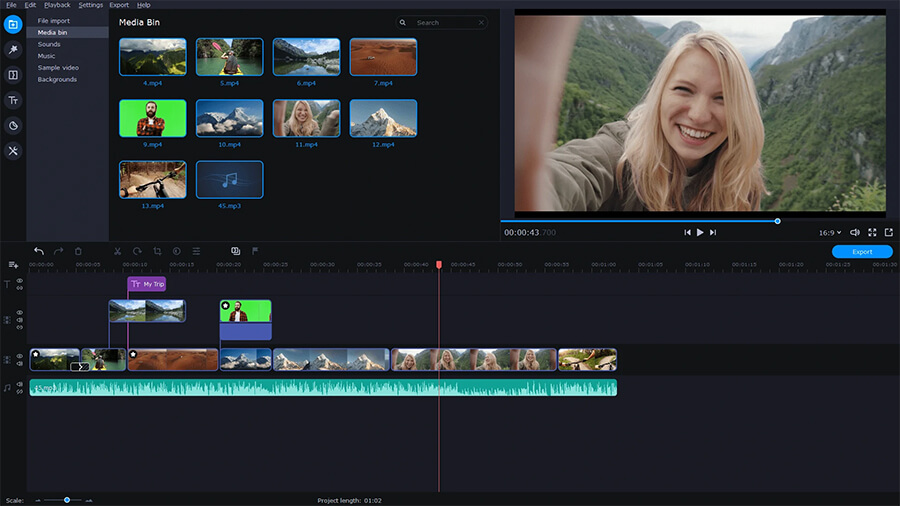 Animation
Any object can be effortlessly animated. Once you place it on the timeline, you can add keyframe to set the animation's path. You can alter the object's position, opacity and even angle during the animation. Using this animation tool, you can create an awesome animation in just seconds.
Detecting Scenes
Movavi Video Editor Plus helps you cut scenes from a longer video. This can be achieved with a single click of the button. It saves a lot of time and effort looking for the beginning and the end of every scene.
Stabilizing Shaky Videos
This incredible feature is mostly found in professional editing software – and it's available with Movavi. The feature detects and corrects small shakes in your video, which are a result of an unsteady camera. Movavi Video Editor improves your video by making those shakes less noticeable.
Collage
You can overlay several videos at once, each taking a portion of the frame. This adds a lot of originality to your video. For instance, you can make a video of a group of people, each talking or performing in their own square on the screen. Or you can split the screen to show two rival sides, or a debate between two people. You can even show the same character from different perspectives at once, in a style of Japanese animation.
Highlight and Conceal
This is another step on your path of becoming a serious video editor. Directors often conceal or highlight certain parts of a frame, to draw the viewer's attention to wherever it's most needed.
You can easily do the same with Movavi's Highlight and Conceal function. You can manipulate the frame to put more emphasis on its specific parts. You can also blur unwanted parts, like someone's face, personal details, or a car's license plate number.
Replacing Colors with Chroma Key
Another advanced yet easily used feature is Chroma Key. You can replace a color, such as that of a green screen or blue screen, with a different video or image. You can add an exciting background to your regular video, just like they do in Hollywood.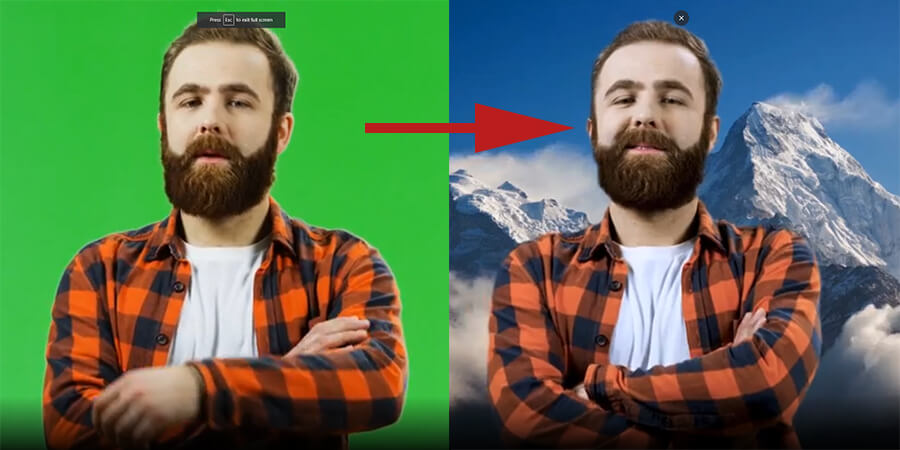 Zoom and Pan
You can truly transform your video into a feature film by using Zoom to enhance a certain part of a shot. You can also use Pan to follow a person or a vehicle as they cross a large landscape. These features truly add a lot of cinematic feeling to the video you're editing.
Audio Editing
Editing video is not complete without the option to separately edit the audio. With Movavi Video Editor Plus, you can professionally edit your project's audio tracks. There are several audio editing tools available, and I encourage to explore them.
For instance, you can remove noise that harms the quality of your film. You just click to select an audio track, adjust the noise removal level, and let Movavi do the rest. The result is a much crispier and cleaner audio that your targeted audience will enjoy.
You can also detect the beats in your video. After they are detected, the software highlights them along the timeline. Next, you can add animation to your video, which will be synchronized to the beats. This will make the video particularly outstanding, as the rhythm of the video will coincide with its sound.
Additional Movavi Products
Movavi has an impressive catalog of multimedia processing software, which you can browse by clicking here.
Movavi Video Editor Plus is probably their leading software, but they have several more tools that you might find useful. You can download them for free to try them out before deciding to purchase. All of them are available in both Windows and Mac format.
Movavi Video Converter
Movavi Video Converter is a must if you plan to export your videos to be used on different devices. With this software you can:
Quickly convert your video files to a variety of popular formats: AVI, MP4, WMV, GIF, MOV, DVD, and many more
Embed subtitles in any language
Compress your video files to a smaller size – without compromising the quality
Split the video into parts or combine it with other videos
Click here to try Movavi Video Converter for free.
Movavi Screen Recorder
Movavi Screen Recorder is a quite useful software. You can capture whatever you see on your display as a video with a sound. Here are some of the things that the Recorder can do for you:
Schedule – set the time and the day when you wish for the screen capturing to start and stop
Show your keyword and mouse clicks during the capturing
Use the captured video to create tutorials
Capture the webcam you're using even if the screen recording is off
Record audio separately
Capture calls, webinars, streaming videos and Zoom meetings
Click here to try Movavi Screen Recorder for free.
Movavi Picverse
Movavi Picverse is a photo editor suitable for every level of expertise. Even if you haven't worked with any graphic software before, the Picverse is perfect for you. With just a click of a button you can:
Adjust your photos' lighting
Enhance the colors
Quickly remove the background and replace it with a new one
Restore or colorize old photos
Add filters and effects from a library of over 100 options
Adjust the sharpness of your image or partially blur it
Remove unwanted objects with precision
Insert texts
Rotate, flip, crop and resize images
And much more!
Click here to try Movavi Picverse for free.
Movavi Video Suite
Movavi Video Suite is a terrific upgrade to Movavi Video Editor Plus. You get all video software in one bundle:
Movavi Video Editor Plus
Movavi Video Converter
Movavi Screen Recorder
Movavi Media Player
Movavi Chili Burner, to burn CDs and DVDs
Click here to try Movavi Video Suit for free.
Movavi Unlimited
Movavi Unlimited is the total package! You get every possible multimedia tool you need in one bundle. With Movavi Unlimited you can:
Make videos
Edit photos
Record your screen
Work with PDF files
Burn CDs and DVDs
Get full access to Movavi effects: backgrounds, transitions, stickers, titles, and thematic sets
Click here to try Movavi Unlimited.
Movavi Video Editor Pricing
At the moment of writing this review, Movavi offers four Movavi Video Editor Plus plans:
$39.95 – personal use, yearly plan
$59.95 – personal use, lifetime plan (this is the best offer)
$79.95 – business use, yearly plan
$149.95 – business use, lifetime plan
Click here to view current prices and discounts.
If, for whatever reason, you are dissatisfied with the product, you have 30 days to ask for a refund. The full refund policy is displayed on Movavi website. Remember that you don't have to purchase immediately – you can try this software for free.
Final Verdict
Movavi Video Editor Plus, as well as other Movavi products, are a great starting point for those interested in video-making. You can quickly learn to use them, the interface is very intuitive, and the numerous features are extremely useful.
I should also mention that Movavi has a support center, where you can find an answer to literally every question and issue. If your question is not covered there, you can submit a ticket, and they will fully address your question personally.
All in all, I highly recommend you give Movavi a try.