Passwords are probably the number one thing you must remember before accessing any online account. However, easy passwords can be hacked, and hard passwords are impossible recall. This is why you need a password manager, such as NordPass. In this NordPass review, we will take a thorough look at NordPass, how it can help you, what makes it so special, what features it has, and how much it costs.
Table of Contents
Quick NordPass Review
NordPass is a cross-platform secure application that manages your passwords and helps you quickly log into any website. NordPass can also store such digital valuables as credit cards information and notes with sensitive information. NordPass alerts whenever your password is too weak or was leaked, and suggests stronger alternatives.
Why Do You Need NordPass?
Security is the number one concern for every Internet user. A lot of our life is online, and a lot of websites and apps have our personal account. Banks, social platforms, emails, work environments, medical records, and so on – all this sensitive data is stored in our online accounts, protected by a password we chose.
However, passwords can still be cracked, and accounts can be stolen. You should use strong passwords, but these can hardly be remembered. Just try to look back and recall how many times you were forced to click "Forgot password".
Thankfully, a trustworthy solution exists, and it's NordPass, from the same folks who created the famous NordVPN. NordPass is a secure service that stores your passwords and can be easily accessed by mobile and desktop apps.
But that's not the only thing that NordPass does. We will take a look at its additional features in a moment. But first, here is a detailed explanation and demonstration of what you can accomplish with NordPass:
NordPass Features
NordPass comes packed with a great number of helpful features and tools.
Password Management
The main feature of NordPass is, of course, password management. Here is what this software can do for you:
One click to save a password: Each time you make a new account or use a new website that requires login – NordPass will show a Save button. You click it, and the password is safe and secure with NordPass.
Automatic login: If you trust a certain website and use it a lot – NordPass lets you log in immediately. You bypass the hassle of typing your email, username, ID, password, and so on.
Browser extension: No matter what browser you're using (Chrome, Edge, Firefox, Safari, Opera, etc.), the NordPass extension can fill any login form for you. Just add the extension to your favorite browser, enable autofill, and you can save precious time.
Import: NordPass can scan browsers and find the password you previously saved. The detected passwords can be quickly imported into NordPass. Additionally, you can import login info with a CSV file.
Web Vault: NordPass's Web Vault can be accessed from any device, even if you don't have their application installed. Just open a browser and use one Master Password. Web Vault contains everything you have previously saved with NordPass, such as your passwords, credit cards and secure notes.
Syncing between devices: We often access the same websites and services from different devices (phones, tablets, computers). With NordPass, you can sync passwords across all the devices, no matter what their operating system is (iOS, macOS, Windows, Linux, Android).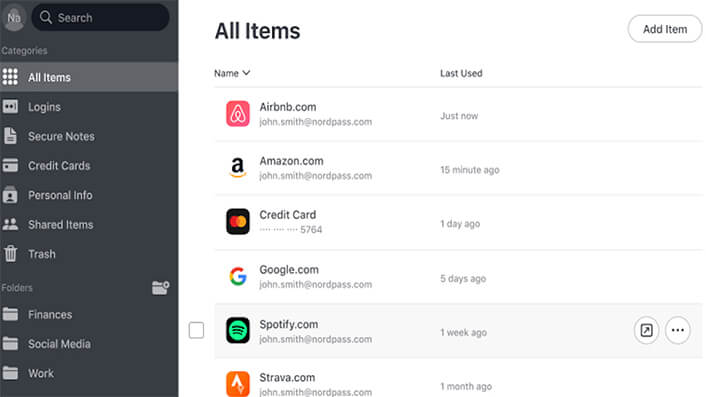 Digital Valuables
Credit cards: You can safely store your credit card information with NordPass, and then re-use it whenever you're shopping or paying bills. The NordPass mobile app has also a built-in OCR option. It can scan your bank and credit card info, so you don't even have to type them.
Secure Notes: The same OCR feature can scan a note, even if it's handwritten, and save it as text under Secure Notes. This is where you can save and quickly access any sensitive information, such as alarm codes, Wi-Fi passwords, safe codes, and more. Your notes, credit card numbers and passwords can also be arranged into folders, for your convenience.
Personal details: NordPass can store such personal information as your phone number, full address, name, email, and so forth. The form filler feature will then use this info to autofill long and tiresome forms for you.
Unlimited storage: As you understand by now, NordPass can really be the universal solution when it comes to highly personal info. Everything can be safely stored in one place. Therefore, it's important to emphasize that your NordPass storage place is unlimited. You can save as many passwords, notes and digital valuables as you wish, under one NordPass account.
Personal Security
Password Generator: Strong passwords are hard to break – but also hard to come up with. NordPass can generate strong passwords for you. Naturally, you won't have to memorize them, since they will be stored within the application.
MFA: NordPass supports the use of Multi-Factor Authentication (MFA). Which means that you can add another security layer to your already encrypted NordPass account. In addition to your username and password, you can use an additional login credential, such as a USB stick or one-time password (OTP) generator. This will ensure that no one but you can access your NordPass vault.
Leak alerts: NordPass scans known data breaches and stolen databases. If your sensitive information was leaked, the app will alert you and prompt to change your login credentials.
Weak passwords detection: We often choose passwords based on easy-to-remember words and numbers, such as birthdays, names, nicknames, favorite food or pet, and so on. However, such passwords can be easily guessed, and your accounts can be hacked. Even short combinations of letters and numbers can be guessed in moments by any hacking software. Luckily, NordPass can point out weak, out-of-date or frequently reused passwords, thanks to its Password Health feature. It will also suggest replacing these vulnerabilities with much better passwords that no one else can hack.
Secure sharing: Sometimes you need to send someone your password. These can be friends, family members, co-workers, or any service providers that you trust. If they also use NordPass, you can use an encrypted channel to give them limited or full access to your info.
NordPass for Mobile
The NordPass is available as a desktop software for Windows, Linux and macOS. However, you can also install the NordPass app on your Android or iOS phone. The mobile app comes with all the significant features we have listed earlier:
Saving and autofilling passwords
Storing notes, credit card numbers and private info
Organizing password and private info in folders
Generating strong passwords
Detecting weak, old, or leaked passwords
Scanning data breaches
Securely sharing passwords with others
The mobile app also supports a biometric scan of your thumb, as another security layer to your NordPass Master Password. The stored information is encrypted with XChaCha20 encryption algorithm, an impossible-to-break encryption that such giant companies as Cloudflare and Google use.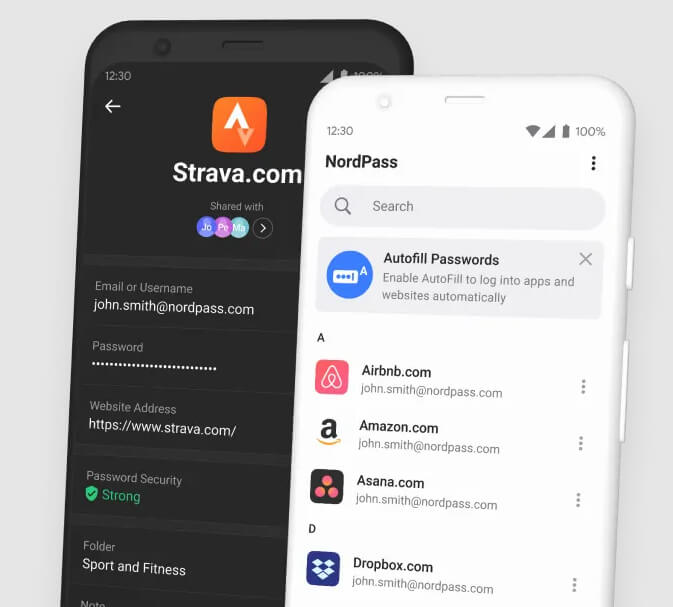 NordPass Pricing
At the moment of writing this review, NordPass offers the following plans:
Free: $0.00 per month. You are not required to provide your credit card number. There are some limitations to the free plan, which you can read here. To access all NordPass features, try one of the following plans.
Premium: From $1.49 per month. Comes with every NordPass feature.
Family: From $4.49 per month. Comes with every NordPass feature and includes up to 6 Premium accounts for the entire family.
Business: $3.59 per user, up to 250 users. Comes with all features and 24/7 premium support. You will have to contact their sales representative if your company is larger than 250 users.
To see the current pricing and discounts, click here.
If, for whatever reason, you are dissatisfied with the product, there is 30-day money-back guarantee.
Final Verdict
In my opinion, NordPass truly offers a great sense of security as well as convenience. It delivers so many useful features that simply make the online activity much easier and safer. The price is well worth it, and you can even try the free plan before committing.
Personally, I got the Family plan, since there are 4 of us and we often need to share passwords. I had a question or two for their support team, and their response by email was quick and cordial. All in all, I say give NordPass a try. It really makes the life much easier!