Ivacy VPN is considered to be one of the leading VPN apps in the world. In the world where everything is online, using a VPN became a necessity. A reliable VPN, such as Ivacy VPN, guarantees that you can access any content, no matter where you are physically located. Ivacy also protects your anonymity, as it encrypts your activity and masks your IP – without logging anything that you do online.
In this post, I will give a detailed Ivacy VPN review, based on my continuous use of this highly important software. I will explain why it's so necessary to install Ivacy VPN, what are its many features, and how it can protect and enhance your online experience.
Table of Contents
Quick Ivacy VPN Review
Ivacy VPN provides fast and reliable VPN with 3500+ servers. It can be installed on any device and platform, with one account using up to 10 devices. Your online activity is secured and encrypted without being tracked. Ivacy VPN improves viewing of streaming services as it bypasses ISP throttling. The software also gives full access to previously geo-restricted content.
Why Do You Need Ivacy VPN?
Let's face it, it's hard to imagine our lives without the Internet. We use it all the time, to get information, to work, to connect with other people, to play games and watch streaming services. However, the Internet is far from being both safe and completely accessible.
Your online safety is constantly challenged, since the global network is ridden with hackers and greedy companies, who are after your personal data. Malicious bots and people are constantly scanning everyone's computers and mobile devices, looking for vulnerabilities and quick profit.
Accessibility is also an issue. A lot of content is geo-restricted and blocked for certain countries. And sometimes it's not just a commercial streaming service. Some countries with stricter regimes block everyone's access to important information that disagrees with the local governments.
There is one clear answer to these and many other online challenges. You need to use a VPN, a virtual private network service. A good VPN usually has a worldwide network of servers that lets you anonymously connect to the Internet. And if you need a really good VPN, then look no further than Ivacy VPN.
Ivacy VPN has a huge network of over 3500 ultrafast servers all over the world. The servers are located in over 100 locations on all continents. You can connect to the Internet through a country of choice and view any previously restricted content. Your connection will be completely secure and anonymous. Ivacy VPN does not reveal your IP to anyone, neither does it log what you do and visit. You are 100% protected and can finally experience what total Internet freedom is all about.
Let's have a more detailed look at what Ivacy VPN has in store.
Ivacy VPN Features
Ivacy VPN is literally packed with features that guarantee your online safety and anonymity.
Complete Security and Privacy
The Internet is full of threats and attempts to steal your data and identity. Ivacy VPN takes care of these enormous problems by ensuring that your online presence remain secure and private. There are several ways by which the software achieves this:
IP address masking: Ivacy VPN masks your IP, hiding you entirely from whatever hackers and data-collecting entities are out there. No one will know what Internet provider you're actually using and where you are located.
Encryption: Thanks to Ivacy, your traffic is fully encrypted by the unbreakable 256-bit encryption. This is one of the strongest encryption algorithms in existence. It would take a 2 to the power of 256 combinations to decipher your messages, which cannot be done even by the most advanced computers on Earth.
Logs-free activity: Ivacy does not log anything that you do and see on the Internet. While ISPs and social platforms sell your online activities to third parties, Ivacy VPN cares about your privacy and never logs anything.
Avoid suspicious Wi-Fi spots: Public Wi-Fi is full of security holes. Hackers use them to plant viruses and malware, and sometimes they even fake a Wi-Fi spot to lure unsuspecting users. Instead of connecting to dubious Wi-Fi spots, you can go online through Ivacy VPN and never have to worry about your safety.
Stay protected from DDoS attacks: Distributed denial-of-service attack can bring your traffic to zero while completely disrupting the Internet infrastructure. Using Ivacy bypasses this common problem, as you're freed from the dependency on your ISP.
Protocols: In addition to the above security measures, Ivacy VPN lets you choose what protocol you use while connecting to the Internet. Choose between IKEV, L2TP, UDP and TCP to add more encryption and safety to your online activity.
Internet kill switch: This useful setting, if turned on, immediately disconnects you from the Internet once the VPN is disconnected. It kills any connection, ensuring that you only go online via the VPN.
The following video demonstrates how you can connect to any Ivacy VPN server to enjoy secure and anonymous connection:
Purpose Selection
Ivacy VPN comes with the feature called Purpose Selection. You can choose between the following options:
Smart Connect instantly connects to the fastest server on the VPN.
Streaming greatly improves your viewing experience (see below). You choose the streaming service that you wish to enjoy without any buffering.
Unblocking helps you connect to websites and services that are usually geo-restricted and blocked in your country. Choose a region and stop worrying about censorship. This is how you achieve complete Internet freedom.
Secure Download lets Ivacy VPN scan your downloaded files for any malware that can harm your computer.
Improved Streaming
It's a known fact that your Internet service providers limit your bandwidth and speed. This is known as "ISP throttling". This results in considerable lags in streaming services you're subscribed to.
Thankfully, Ivacy VPN bypasses any ISP throttling. You can connect to any of its 3500+ fast servers and enjoy your Netflix/Disney+/HBO/etc. without the annoying buffering. For improved streaming experience, make sure you select the "Streaming" mode under Purpose Selection.
Split Tunneling
This unique feature is exclusive to Ivacy VPN. Activating it results in two "tunnels": one that goes through your Internet provider, and another one that goes through the VPN. This is a really nice method to manage your bandwidth, as you get to choose which traffic gets encrypted and which can be used locally.
The following screenshot displays how you select which apps use the split tunneling.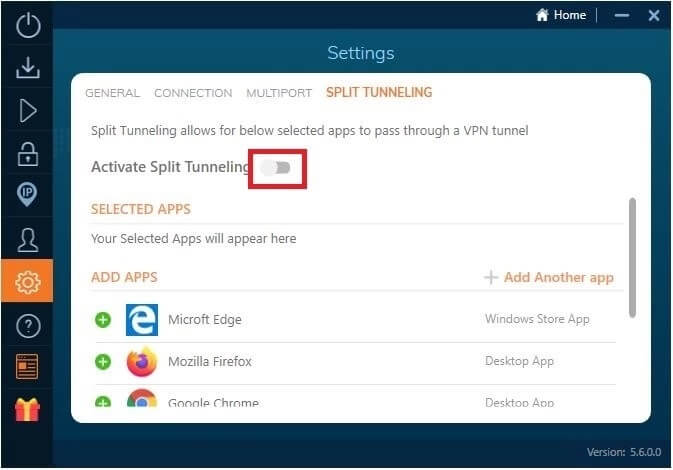 Multiple Device Support
You can use Ivacy VPN on up to 10 different devices from the same account. This is much more than what other VPN services offer. Moreover, these devices can be from completely different technologies and can run of various operating systems. Ivacy VPN can be installed on such platforms and devices as:
Windows
Mac
Android (as a mobile app)
iOS (as a mobile app)
Linux
Kodi
Blacberry
Playstation
xBox
Smart TV
Raspberry Pi
Boxee
Roku
And several more
Ivacy website has detailed instructions on how to install their VPN on a device of your choice.
Browser Extension
Ivacy VPN comes with another feature that places it above most of VPN providers. It has an extension for Chrome and Firefox browsers. If for some reason you cannot install an additional app on your computer, use the extension to quickly connect to Ivacy's worldwide servers. This can be done in 3 easy steps, as you can see from the screenshots below: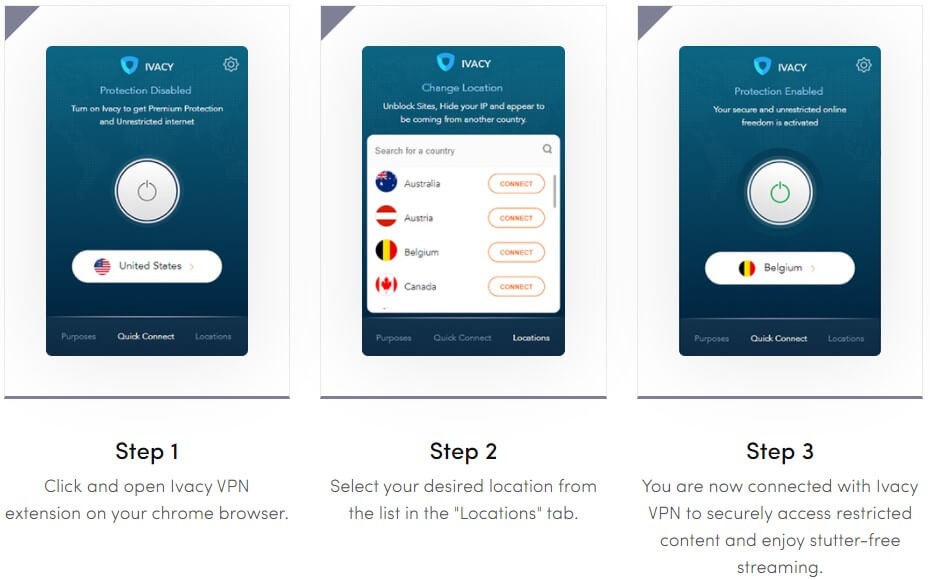 Ivacy VPN Pricing and Bonuses
At the moment of writing this review, Ivacy VPN offers 3 affordable pricing plans:
$9.95 per month
Yearly plan: $3.36 per month
2 years plan: $2.25 per month, with a free bonus – 2TB encrypted cloud storage.
Sometimes they offer additional discounts and bonuses, you can click here to view them.
If for some reason you decide to cancel your plan within 30 days, you can contact Ivacy for full refund.
Final Verdict
Ivacy VPN is the total package. I've been using it for a while and could not find anything negative to say about this software. I was able to instantly connect to servers in a few other countries and view content that was not available in my region.
Their support is also highly satisfactory, the experts are available 24/7, both by live chat and tickets. Most of the time you don't even need them, since the website has every possible guide and step-by-step tutorial.
All in all, using Ivacy VPN upgrades the whole Internet experience, as the software lets you access everything while remaining fully protected. You should give it a try and see for yourself.