It's impossible to imagine our lives without photos. We all have favorite moments we wish to capture. The real challenge is finding a photo editing software that anyone can use, yet it doesn't cost too much. Movavi Picverse answers this need.
In this article, I will give a thorough Movavi Picverse review that tests whether this photo editor is the right app for everyone. We will look at all the helpful features that are included with Movavi Picverse. Let's begin.
Quick Movavi Picverse Review
Movavi Picverse is photo editing software, suitable for both beginners and experts. You can easily edit your images, enhance new photos, restore old photos, add effects, filters, and captions, remove background, and so much more. Movavi Picverse is affordable and offers numerous useful features and bonuses for a convenient price.
Why Do You Need Movavi Picverse?
We all love taking photos and sharing them with friends. However, not all of us are professional photographers, and often we feel the need to improve our photos. The colors and the lighting can be off, there are unwanted objects and people in the photo, or maybe we simply want to add a few effects and a caption.
The solution is a photo editor that anyone can use. A lot of photo editors are too complicated to be used by a novice, and they cost quite a lot. Movavi breaks this pattern and offers an affordable software, Movavi Picverse. This easy-to-use photo editor is compatible with every level of photo editing knowledge, even if you haven't edited anything in the past.
Movavi Picverse's features are very accessible and easy to understand. You can find anything on its user-friendly interface. We will review these features in the next part of the review. You can also see some of them in the following video:
Movavi Picverse Features and Bonuses
Movavi Picverse comes packed with a great number of helpful features and bonuses.
Basic Editing
Movavi Picverse has all the functions one can expect from a serious photo editing software, including:
Cut
Copy
Past
Rotate image
Flip image
Resize image
Crop
Open any image
Save in any image format
Remove metadata from image
Embed comments with image
Photo Correction
Movavi Picverse lets you correct colors, lighting, contrast, and so on. You can do all of this with just a couple of clicks. For instance, you can:
Add hues
Adjust white balance
Add HDR lighting
Reduce noise in low-quality photos
Retouch the photo
Sharpen or blur parts of the image
Enhance the colors to make your image more vivid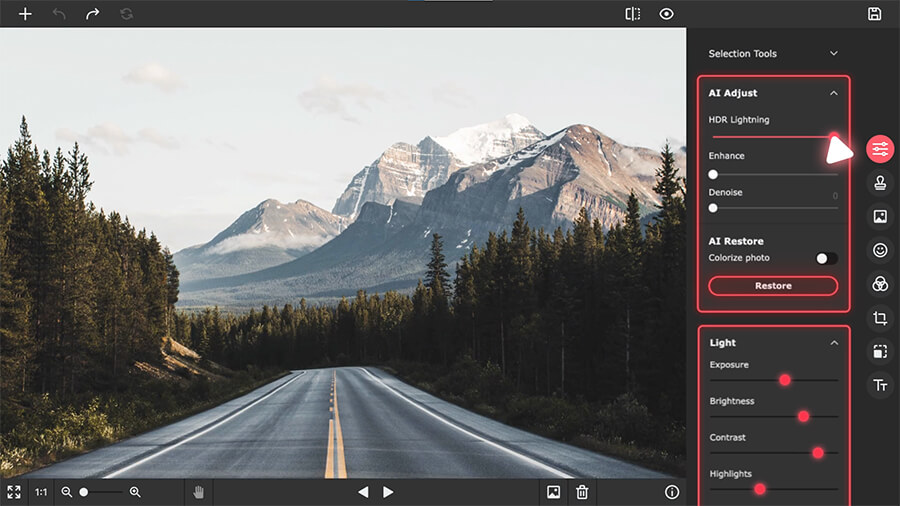 Exclusive Features
Movavi Picverse provides quite a few advanced features, which are usually not found in other editors:
Removal of unwanted objects with precision
Background removal and replacement
Quick colorization and restoration of old photos
AI optimization – your photos are automatically enhanced in seconds!
Fun and Social Media
Movavi Picverse has a few features that you can use before sharing your pictures with the world:
Over 100 filters and effects, added to the software for free
Caption insertion – you can add texts and change their colors, fonts, and shapes
Instant sharing on Google Drive
Facial recognition that helps organizing the phots by their participants
Photos' organization by their geolocation
Quick creation of photo collages
Automatic organization and management of thousands of images at once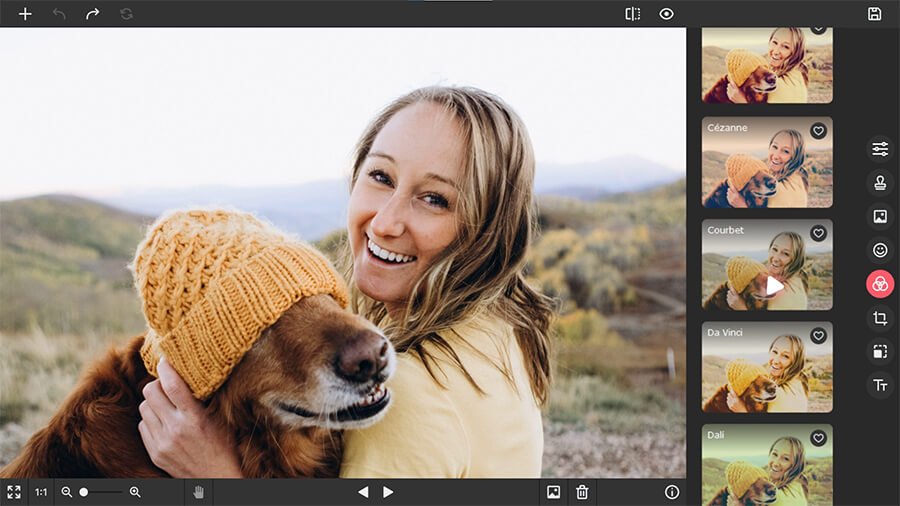 Movavi Picverse Pricing
At the moment of writing this review, Movavi offers two Movavi Picverse plans:
$49.95 instead of $83.25 – 1-year subscription
$69.95 – lifetime plan (this is the best offer)
Click here to view current prices and discounts. You can also download it for free to try it out before buying.
If, for whatever reason, you are dissatisfied with the product, you have 30 days to ask for a refund. The full refund policy is displayed on Movavi website.
Final Verdict
Movavi Picverse, as well as other Movavi products, are a terrific starting point for people interested in multimedia editing. You can start using them in no time, thanks to their intuitive design and easy-to-use functions.
Movavi also has an online support center, which covers every possible question you might have about their software. Additionally, you can call their support line or submit a ticket with the issue you're having.
All in all, I truly recommend you give Movavi Picverse a try.